Anti-crisis menu à la russe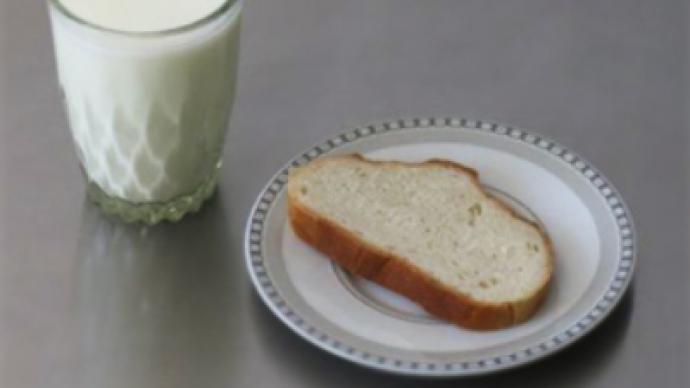 Russian authorities have published dietary guidelines for preparing meals in these times of economic crisis. However, Russians took the advice with skepticism.
The 'anti-crisis menu' was written by Russia's chief sanitary doctor, Gennady Onishchenko, along with Viktor Tutelyan, the Director of the Nutrition Research Institute.
In their foreword, they offer advice on preparing healthy food on an affordable budget. The advice includes giving up sausage in favour of beef and poultry, serving more dairy products to children rather than soft drinks, cooking potatoes in their skins 'like our wise ancestors' and eating immediately after food is cooked.
They also suggest reviving the traditions of cooking at home, saying cooking skills and recipes are part of Russian culture.
The menu itself is meant to teach Russians how to provide a person of any age with healthy nutrition at a minimum cost. According to the recommendations, a mature man can stay fit and happy spending a bit more than $US 100 a month. Elderly people will be fine with $US 90 of their monthly food budget while a baby needs slightly more then $US 55, the officials wrote.
Good intentions wasted?
Russians – at least those with Internet access – seem to be skeptical about this advice.
"I'll pick this menu if all those onishchenkos and tutelyans eat the same," says Sergey, who commented on an article published on the website of the popular newspaper Komsomolskaya Pravda.
"A working person can't do it without semi-finished products. You can't spend all your spare time in the kitchen. Health is important, but you have to keep your nerves in order too," argues Svetlaya.
"This 'menu' is nothing more than a politically motivated paper. Unemployment will surge soon. A maximum benefit – which not everyone will get – is 4900 roubles [about $US 136]. What will a man in this position do? The authorities are sending a signal: go eat potatoes, it's good for your health!" argues another commentator, who apparently has grim expectations.
"I'll get sick of this menu in three days. For the last ten years I prefer Italian, Caucasian and Chinese cuisine. It's tasty, it brings pleasure, and it's so good for my body. I'll eat those 'healthy' spinach things when I'm old," said Lana.
"I've been suspecting there was a crisis, since this has been my menu for the five last years. Geeeeez!" wonders Aleksey.
By the way, RT's website team staff is not planning to switch to an anti-crisis menu.
We also assure you that Russian cooking traditions are cherished by our office staff. The best proof is our culinary section – all dishes there were cooked and tasted by our enthusiastic chefs and gourmands.
Suggested daily menu for a male adult
Breakfast
Two scrambled eggs with butter.
Oatmeal porridge with milk and butter. 200 grams
Tea with sugar and a bread roll
Lunch
Cheese sandwich. About 40 grams total
Tea with milk and sugar
Dinner
Borscht with cream. 400 grams
Boiled meat. 120 grams
Rice. 140 grams
Salad. Cabbage, carrot, onions, oil. 50 grams
Tea with sugar
Afternoon luncheon
Fresh fruits. 150 grams
Cottage cheese
Supper
Fried fish. 70 grams
Oven baked potatoes. 250 grams
Salad. Cabbage, carrot, oil. 50 grams
Apple compote. 200 grams
Before going to bed
Kefir drink, low fat. 200 grams
Total bread for the day: 350 grams
You can share this story on social media: