​Antarctic break: Russian, Chinese stranded ships navigate out of ice trap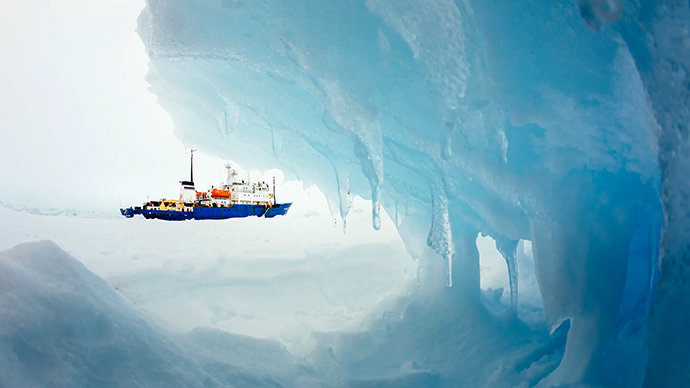 A Russian-built ship stranded in the Antarctic ice has started moving away from the ice fields after a change of wind cleared its path. A Chinese icebreaker, which was caught herself on the way to rescue the vessel, has already reached clear waters.
The 'Akademik Shokalskiy' research ship, which left the port of Bluff in New Zealand on December 8 with 52 passengers and 22 crew members onboard, got stuck in Antarctic ice on December 24. Chinese, Australian and French icebreakers tried to rescue her, but none of them managed, and the Chinese vessel herself got stuck.
The passengers on the vessel were evacuated last Thursday by helicopter to the Australian Aurora Australis, while crew members stayed behind.
Luckily, as the weather changed the danger threatening the trapped vessels decreased.
"The situation is favorable now. First, the wind changed direction from an Easterly to a North-Westerly, which changed the direction of ice drift. A large crack formed in the ice, and the ship is now navigating it," Yury Volgov, director of the Far-Eastern Hydrometeorology Research Institute, which owns the Academician Shokalsky, told media.
The ship may escape the clutches of the ice field quite soon, ship captain Igor Kiselyov said.
"We are sailing at low speed, changing courses. We've traveled 20 miles so far. It's difficult so far, with dense fog and visibility no further than 500 meters. But the ice is thinner and broken here, so we're moving," he said.
Trapped China icebreaker Xuelong made successful escape through heavy sea ice at 18:30 Beijing time Tues pic.twitter.com/AtqonbspGV

— Xinhua News Agency (@XHNews) January 7, 2014
Favorable winds also helped Chinese icebreaker, Xue Long, (Snow Dragon), which attempted to reach the Russian vessel, but got stuck in the ice as well. The Xue Long's movement became blocked by a drifting kilometer-long iceberg, which constantly changed position.
According to Xinhua news agency, the ship with 101 crew on board has already reached waters free from ice.
American vessel the Polar Star, the US Coast Guard's only active heavy polar icebreaker, was sent to the rescue as well and is expected to arrive at the end of this week.
You can share this story on social media: