Passengers of ice-bound Russian ship in Antarctic rescued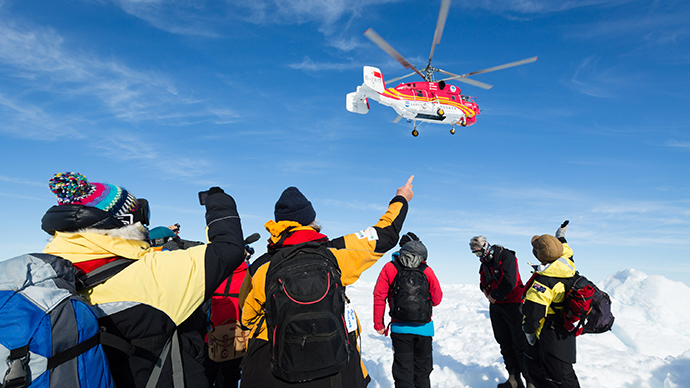 All the passengers of the Russian ship Akademik Shokalsky, stuck in the Antarctic since Christmas Eve, have been rescued after a Chinese helicopter delivered them to an Australian icebreaker.
A total of 52 scientists and tourists have been transported to the Aurora Australis vessel, according to the Australian Maritime Safety Authority (AMSA), which has supervised the rescue operation.
Aurora Australis has advised AMSA that the 52 passengers from the Akademik Shokalskiy are now on board.

— AMSA News (@AMSA_News) January 2, 2014
It was initially thought the Shokalsky passengers would be first transferred by helicopter to the Chinese icebreaker Snow Dragon, and then taken to the Australian icebreaker. The change of plans occurred due to sea ice conditions which jeopardized the whole rescue operation, the Australian Maritime Safety Authority (AMSA) said earlier Thursday.

"Current sea ice conditions prevent the barge from Aurora Australis from reaching the Chinese vessel Xue Long (Snow Dragon) and a rescue may not be possible today," the agency's statement read, Reuters reported.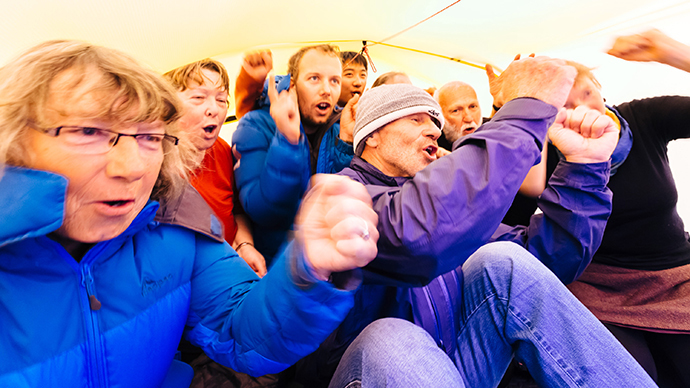 The rescue operation eventually consisted of several return helicopter flights. Five of them carried passengers, as the helicopter could only take 12 people at a time. Onboard the Aurora, the Shokalsky passengers will arrive by mid-January to the Australian island state of Tasmania.
The Chinese helicopter has arrived @ the Shokalskiy. It's 100% we're off! A huge thanks to all. http://t.co/UcmHMaO2Gd#spiritofmawson

— Chris Turney (@ProfChrisTurney) January 2, 2014
Twenty-two members of the Shokalsky's crew are to stay on the ship, which is not believed to be in danger and will wait for more favorable weather conditions to continue its voyage.
The rescue operation now under way was preceded by three icebreakers' failed attempts to make their way to the stranded Akademik Shokalsky. The Chinese Snow Dragon, the French L'Astrolabe, sent from the nearby Antarctic base, Dumont D'Urville, and the Australian Aurora Australis, all failed to crack through the thick layer of ice surrounding the Shokalsky. Chris Turney, an Australian professor leading the expedition, said the ice around the trapped ship was 3 meters thick.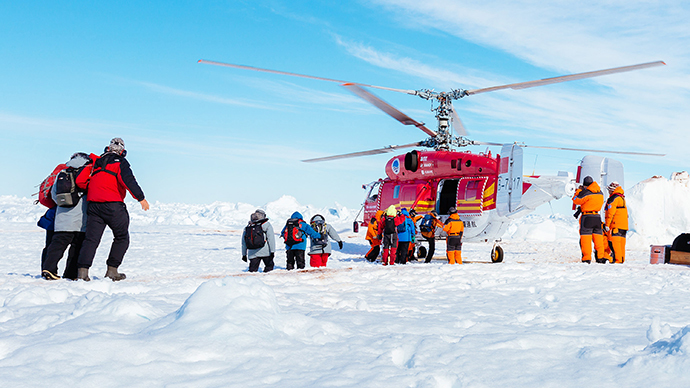 Snow showers, strong winds and poor visibility were among other factors which prevented the other vessels from reaching the Shokalsky.
The Russian ship left New Zealand on Nov. 28 with 74 people on board for a privately-funded research expedition to celebrate the 100th anniversary of an Antarctic journey led by Australian explorer Douglas Mawson. The ship was originally scheduled to return to New Zealand on Jan. 4.
The Shokalsky crew's plan to visit inaccessible Antarctic huts eventually resulted in it being
trapped
in the thick ice on Christmas Eve.
You can share this story on social media: