Anonymous factions threaten cyber-war on one another over anti-NSA hacks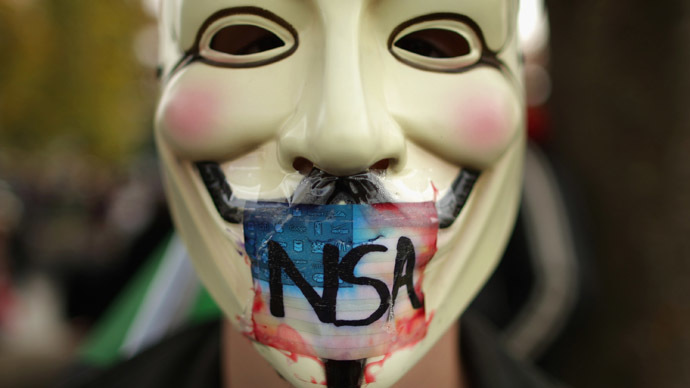 Hackers affiliated with the Anonymous Australia collective have posted a video warning their counterparts in Indonesia that if they do not stop infiltrating private Aussie web sites the two factions could engage in an all-out cyber-war.
The group known as "Anonymous Indonesia" took responsibility last week for hacking more than 170 websites in Australia. Anonymous Indonesia told the website Tempo that the hack was in response to a report that the Australian government granted the US National Security Agency access to its embassy in Jakarta to spy on Indonesians.
Yet instead of retaliating against the Australian government Anonymous Indonesia seems to have disturbed the operations of private Australian businesses including a dry cleaner, a bouncy castle business that provides inflatable party toys, and others that obviously had nothing to do with any NSA activity.
The warning issued Monday was not the first video addressed to the Indonesian hackers.
"Innocent businesses should not be attacked," the first video declared. "We all bound together in an effort to bring down our tyrant governments to shape our world as a better place."
"You have not stopped your attacks against the Australian public where we have tried to plead with you," Monday's video said. "What is there to prove? We do not want a cyber-war, do you? …We have been patient with you, Anonymous Indonesia. There will be no more warnings if you choose to attack again."
The message goes on to suggest that Anonymous Indonesia instead focus its efforts on the Australian Secret Intelligence Service (ASIS), the Australian Security Intelligence Organization (ASIO), and the Australian Signals Directorate (ASD).
That advice seems to have taken hold, as the ASIS website was knocked offline for hours on Monday. The other pages seemed to be operating as normal but Heru Satudi, executive director of the Indonesian technology think tank the Indonesia ICT Institute, told the Sydney Morning Herald a distributed-denial-of-service (DDoS) attack crashed the site.
Frustration with the Australian government's complicity in the NSA spying has stretched far past Anonymous, though. The clandestine activity was first exposed by a leak from NSA whistleblower Edward Snowden last month and reverberations from the revelations are still echoing throughout the region.
"Enough is enough," Indonesian Foreign Minister Marty Natalegawa told reporters last week. "While [the US and Australia] are not able to confirm or deny past activities, at least they should be able, and I'm making a public expectation here, I think they should be able to henceforth say they are not going to do it anymore.
"In the absence of assurances that such [spying] activities never took place, then of course we must assume that such activities are taking place, and draw our own conclusion in terms of their view of Indonesia as a partner," he continued.