Anonymous takes down Delhi Police website over gang-rape case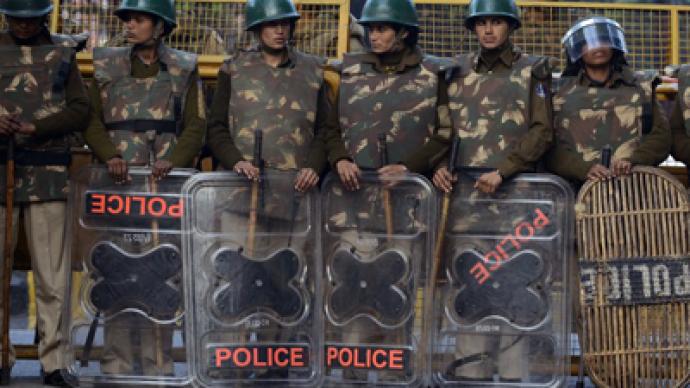 Hacktivist group Anonymous has taken down the Delhi Police website over its reaction to weeklong protests sparked by the brutal gang-rape of a young woman, urging authorities to bring the rapists to justice.
It comes as the authorities have shut down roads and railway stations in the Indian capital in a bid to halt the protests. Meanwhile, the country's Prime Minister Manmohan Singh has called for calm amid the public outrage gripping India."We all know about the shameful incident that happened in Delhi, and we all want the same result i.e. – punish the rapist," Anonymous said in a statement published on The Hackers Blog.The hacktivists blamed the police for cracking down on protesters instead of cooperating with them and finding the culprits. They also thanked the public for taking to the streets despite chilly weather.On Monday police fired water cannons at the demonstrators to prevent them from marching on the presidential palace in New Delhi. "We want justice," the protesters shouted. "Don't teach us what not to wear. Teach your sons not to rape girls," and "Government belongs to us, not to anybody's father." The capital is currently experiencing massive traffic jams due to the barricades.Indian Prime Minister Manmohan Singh has come under fire for his slow response to the incident; he gave an unusual televised address in response a week after the crime. "There is genuine and justified anger and anguish at this ghastly incident, but violence will serve no purpose," Singh said. "I feel deeply sad at the turn of events leading to clashes between protesters and police forces. I assure you that we will make all possible efforts to ensure security and safety to all women in this country. As a father of three daughters myself, I feel as strongly as you. We will ensure justice is delivered."The public outrage was fueled by an incident on a bus on December 16 that left a young woman in critical condition. Police say the attackers gang-raped the woman and beat her and her male companion with iron rods as the bus drove through the city for hours, even passing police checkpoints. The protests continued despite repeated assurances by Home Minister Sushilkumar Shinde that he would consider the demand that all six suspects face the death penalty.
You can share this story on social media: