Ankara police block activist funeral cortege, raid memorial protest with tear gas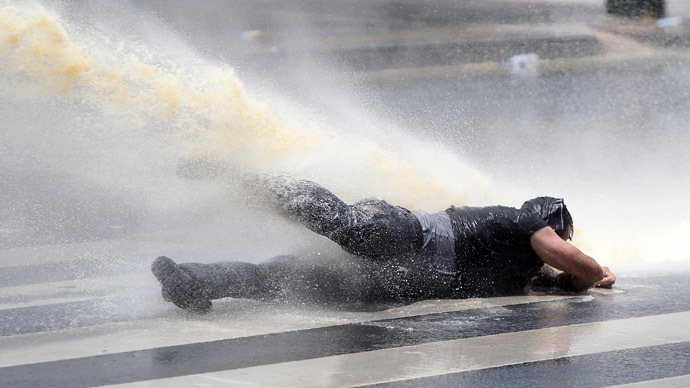 Turkish police used tear gas and water cannon in Ankara's Kizilay Square to stop a memorial demonstration for an activist fatally shot in the head during protests. As police clashed with the hundreds-strong crowd a ban on downtown protests was announced.
Follow RT's LIVE UPDATES on the protests in Turkey
About a thousand demonstrators gathered at the square in the center of the Turkish capital on Sunday, blocking two busy boulevards.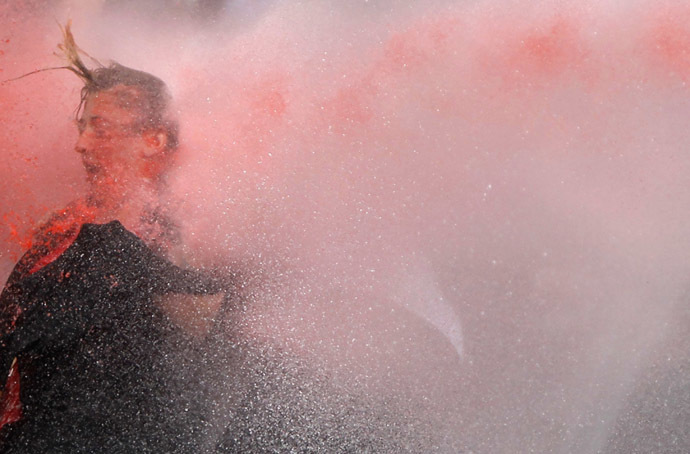 The protesters were waiting for the funeral procession for Ethem Sarisuluk, a 26-year-old activist who was shot in the head during demonstrations in Ankara on June 1 in support of Istanbul's Gezi Park. Following two weeks on life support, Sarisuluk was declared brain dead.

Ethem Sarısülük evinin onünden gecirilecek. Yuruyus... pic.twitter.com/M4aiVR3s6R

— BanuGuven (@banuguven) June 16, 2013
The demonstrators, who believe the bullet that killed Sarisuluk was fired by a policeman, were chanting anti-government slogans, when scores of the police backed by riot control vehicles entered the square. 
Many demonstrators have brought flowers – red carnations – to commemorate the protester shot at Kizilay.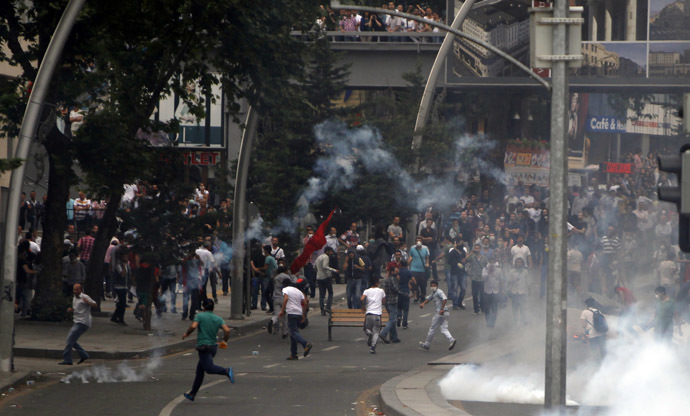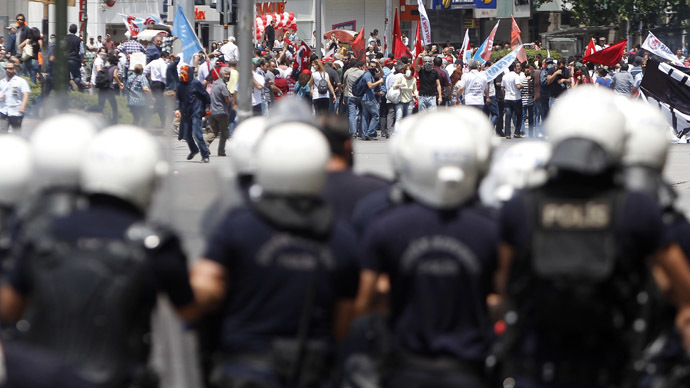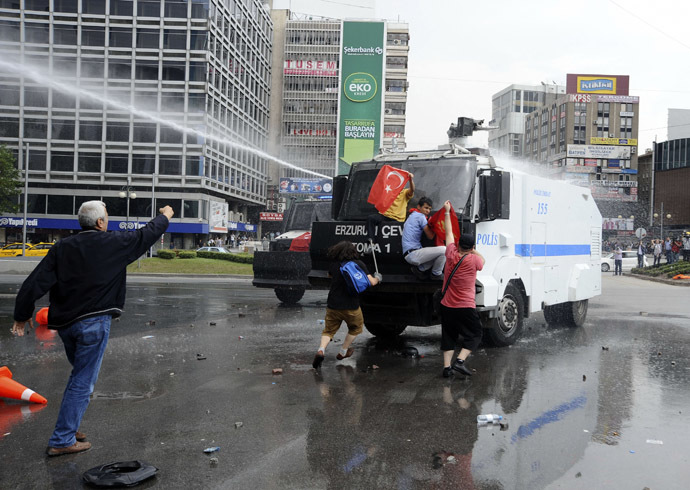 The police waited until the funeral convoy arrived to the scene, stopping it, the witnesses tweeted.

The deceased's family and a deputy of main opposition Republican People's Party (CHP) tried to negotiate with the police to let the procession through, but were not allowed into the square, according to Hurriyet.
"Funeral of Ethem Sarisuluk is not allowed to be taken to Kizilay. Ways are blocked in Batikent." #OccupyGezipic.twitter.com/3lWjuNCtBP

— Arzela (@arzela_) June 16, 2013
The cortege was then told to turn back from where it started, and the procession had to leave.

After repeatedly demanding to clear the square, the police then cracked down on the demonstrators, firing tear gas and high-pressure water. Armored police vehicles were backing the raid and making "dangerous driving maneuvers" and "putting lives of people at the square in danger."
12.45pm local time, police already began dispersing crowd in Kizilay Sq., Ankara: v @140journos: pic.twitter.com/8MQ62eLoWF

— ilhan tanir (@WashingtonPoint) June 16, 2013
Following at least three separate interventions, the square was covered by clouds of tear gas.
Protesters then clashed with the police on the side streets surrounding Kizilay, with reports of dozens of injured appearing on Twitter. 
#occupygezi - Kizilay Sq in Ankara is under tear gas clouds again http://t.co/hzxCt3dahe

— opeiratis (@opeiratis) June 16, 2013
The Ankara governor's office on Sunday said it is banning any downtown demonstrations from June 16, and threatened protesters with immediate police intervention and prosecution in court.
"From June 16, any demonstrations, marches or other actions may not be held in the central streets of Ankara… Otherwise, security forces will be used to halt rallies and legislative measures will be applied against the organizers of these actions and their participants," the statement on the governor's office website said. 
'We will not allow any gathering in Taksim'

Meanwhile in Istanbul, riot police fired sporadic bursts of tear gas to prevent the demonstrators from regrouping. Protesters' tents and barricades were removed in Taksim Square and Gezi Park overnight ahead of the massive pro-government rally in the city's largest square, Kazlıcesme.
Istanbul protesters could not make it past police barricades in Taksim, empty police shuttles occupy square. @AFPpic.twitter.com/1A8gq7tDeQ

— ceren kumova (@cerengemini) June 16, 2013
Istanbul's Governor Huseyin Avni Mutlu on Sunday stressed that protesters would not be allowed to gather in Taksim Square.
"There is a call to gather in Taksim at 4pm [13:00 GMT]. Any call for Taksim will not contribute to peace and security. After the current environment becomes stable, they can continue exercising their democratic rights. Under current circumstances we will not allow any gathering," Mutlu told reporters.
The situation in Istanbul is mostly peaceful, and there are no major clashes in the city center, the governor claimed.
bu nasıl bir şeydir ? Sisli, Istanbul, Turkey 16-06-2013 pic.twitter.com/Yuj3jYg6t6

— Sevinç Eratalay (@EratalaySevinc) June 16, 2013
However, the police continued to use tear gas against groups of protesters gathering in central districts of Istanbul to head for Taksim Square.
In the district of Shishli – some 2km from Taksim – a group of protesters built a barricade to halt police, but was dispersed by rounds of tear gas and took shelter in a nearby mall.
FOTO: [#Istanbul] The crowd of people are walking in masses from Sisli towards #Taksim#occupygezi#istanbulpic.twitter.com/eO27hoDeIc

— citizensoftheworld (@worldofcitizens) June 16, 2013
Camiden sonra mezarlığa da gaz! "@dadaist_junker: 17:33 polis Şişli Ermeni Mezarlığı'na girerek, gaz bombası attı. pic.twitter.com/IdPuJiLAuC""

— gülsin harman (@gulsinharman) June 16, 2013
Earlier reports said the police have chased another group of about 100 protesters heading for Taksim into a mall in Mecidiyekoy, also in Shishli. The people shopping at the mall reportedly chanted anti-government slogans, protesting against the police intervention.
Mecidiyeköy'deki protestolar sırasında polis göstericilerin sığındığı Cevahir AVM'ye girdi, biber gazı sıktı. pic.twitter.com/tfCqS57yr6

— CHP İstanbul (@CHP_istanbulil) June 16, 2013
'Authorities never kept their promises'
The people cannot trust Turkish police and authorities after Taksim Square, human rights activist Dr. Sebnem Korur Fincanci told RT.

"They excessively use violence and tear gas against medical personnel and injured people, they target doctors who voluntarily support the health units healing the injured," she said.

Istanbul governor has confirmed on Sunday that some doctors have been detained by police.
Police detaining Dr's, who are helping those injured around Taksim. Dr's took an oath to do this, right? pic.twitter.com/8kZ0cymU7z #occupygezi

— T.C. (@ardaic) June 16, 2013
"[The Turkish authorities] have negotiated with protesters but never kept their promises. Although they said they would keep [Gezi] park, they actually immediately abolished it. They have to keep their promises. We can never be sure that they are sincere," the human rights activist stressed.
You can share this story on social media: