Ancient wrestlers caught match-fixing by scientists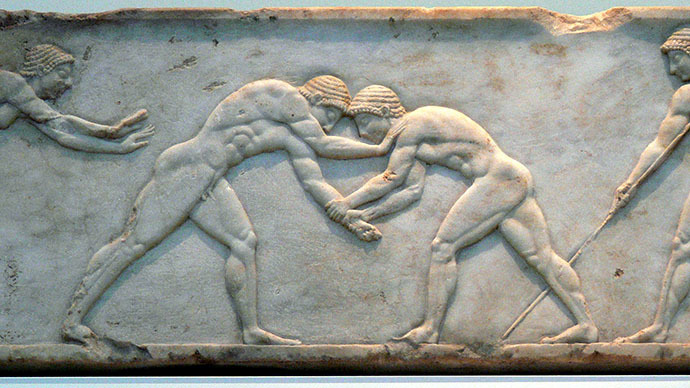 Modern-day professional wrestling has encountered its fair share of criticism for its questionable authenticity...but a newly revealed document shows that ancient athletes weren't so honest about their competitions, either.
Scientists at King's College London have deciphered a Greek document which reveals that an ancient wrestling match from year A.D. 267 was fixed, LiveScience website reports. The contract was signed between two teenage athletes who made it to the final bout of the prestigious 138th Great Antinoeia games in Egypt.
According to the deal, the father of a wrestler named Nicantinous agreed to pay a bribe to the guarantors (likely the trainers) of another wrestler named Demetrius. The contract stipulated that Demetrius would "fall three times and yield," and would be rewarded with "3,800 drachmas of silver of old coinage."
A clause in the document stated that if the judges realized the match was fixed and refused to reward Nicantinous the win, Demetrius would still be paid.
If "the crown is reserved as sacred, [we] are not to institute proceedings against him about these things," it read.
However, if Demetrius went back on the deal and won the match, the contract ordered him "to pay as penalty to my [same] son on account of wrongdoing three talents of silver of old coinage without any delay or inventive argument."
Demetrius most likely came from a poor family, as he agreed to a rather small payment of 3,800 drachma, which was enough to buy a donkey at the time, said professor Dominic Rathbone, the translator of the contract.
It appears that Nicantinous wasn't at all sure of his ability to win the final, and turned to match fixing because there was no prize for placing second at the Great Antinoeia, he added.
But the translator said he's puzzled at the decision to create a written contract recording the agreement.
"It doesn't look as though they've actually gone as far as getting a scribe with legal knowledge to do this for them, which makes you wonder if it's a bit of an empty thing," Rathbone said, adding that it would have been difficult to take the matter to court if one of the parties had reneged.
It's the first time that a written contract of match fixing between two athletes from the ancient world has been found.
The document was found more than a century ago at Oxyrhynchus in Egypt, by an expedition led by archaeologists Bernard Grenfell and Arthur Hunt. The translation was released in the latest volume of The Oxyrhynchus Papyri, an ongoing series that publishes papyri from the site of Oxyrhynchus.