Working Americans suffer most as debt collectors go wild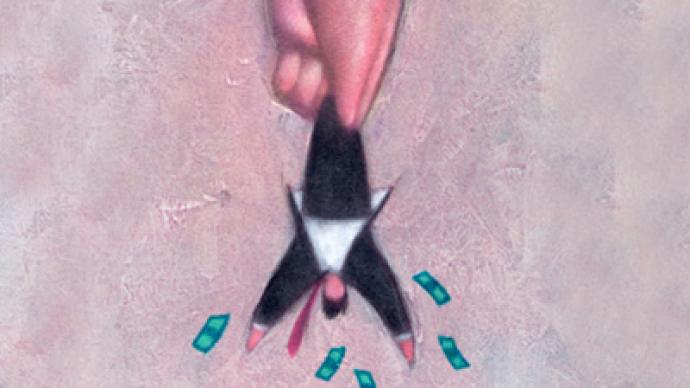 While the US government is the biggest borrower in the country, it is still the working Americans who have to bear the brunt with growing numbers said to be subjected to extreme abuse from debt collectors.
Imagine a call coming to your home – you pick it up, and a stranger demands your money and threatens your life."They said: we know where you live, we know who your wife is. You're not going to get away with this," says Bart Bryant, a victim of debt collectors. "And I called them back to find out exactly who they were."Bart Bryant was not dealing with the mafia – they were the voices of debt collectors harassing the 50-year-old music producer over a small debt belonging to his son.With a record number of Americans drowning in unpaid bills, losing homes and searching for jobs, there is no holding back for those determined to make people pay their way – from furious rants to threats of physical violence.Abuse in the US debt collection industry has reached record highs with 144,000 complaints filed with the federal government last year – among them, collectors resorting to racial slurs, anti-Semitic remarks and threats of rape."Any threats of violence are clearly illegal. Contact with third parties, somebody other than the consumer is illegal unless it is under very specific circumstances," says consumer rights attorney Joseph Mauro. "However, debt collectors routinely violate the third party disclosure rules and contact neighbors and relatives as a means of putting pressure on consumers to pay."Attorney Joseph Mauro says most collection agents work on commission, only getting paid when a debt has been recovered.A climate of economic desperation is intensifying the use of illegal and aggressive tactics, just to net a bounty paycheck."There are, to my knowledge, about four or five cases of suicide coming from debt collection harassment," Joseph Mauro says. "There have also been heart attacks and strokes."Ironically, a lifeline is always extended to the biggest borrower of them all – the US government. With an exceptional debt of 14.3 trillion dollars, America keeps spending money, printing more cash, and relying on creditors like China who owns $1.1 billion in US treasury bonds.Washington gets a safety net, Wall Street gets a bailout, and the working American facing financial hardship gets harassed."Is it unfair? Yes. Is the economic environment disastrous right now? Yes, it is. But there's been traditional ways to work your way out of these situations and those mechanisms aren't working anymore," Bart Bryant says.A debt collector's voice on the phone is a sound unlikely to be heard on Wall Street, where the rich and powerful have lost billions in past years while poorer Americans on Main Street continue dealing with the consequences.
You can share this story on social media: