Amateur shooter kills friend at Moscow firearms club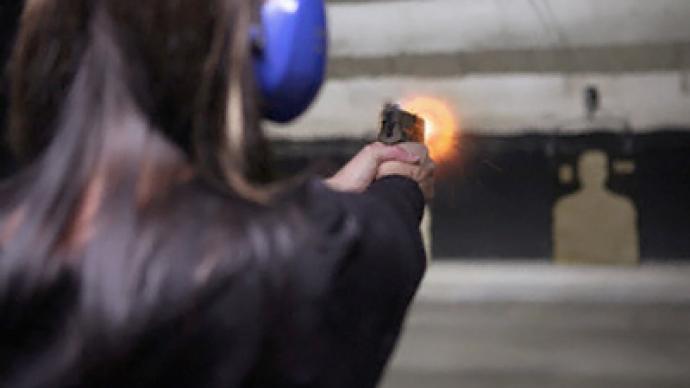 A university worker has fatally wounded a colleague at a shooting range in Moscow. The owner of the club may be charged with criminal negligence.
The incident happened on Wednesday at the "Khishchnik" (Predator) club, which has a large arsenal of firearms and allows amateur shooters to use its range under an instructor's control.Aleksandra Voronkova, 33, and her boyfriend often visited it. On Wednesday, they invited some of their friends, including Tatyana Egorova, 40, to try their hand at shooting.After a safety briefing, the women fired small caliber pistols. Then the men had their turn with more powerful weapons. There were still some rounds left after that, so it was suggested that the girls try "real guns".Egorova had never handled a firearm before, she later said. She was offered an MP-446 Viking, the civilian version of the MP-443 Grach, which is the standard military side arm in Russia at the moment. The 9mm caliber handgun is semi-automatic and its cartridge can hold up to 17 rounds.It seems the inexperienced shooter failed to handle the weapon properly. After shooting one round at the target she accidentally fired another one to the side. The stray bullet reportedly went through a separator of the firing line, ricocheted from a metal plate and wounded Voronkova in the head. The woman was hastily taken to hospital, but died several hours later. Another girl received a small arm injury from a fragment of the separator, which the bullet damaged.Voronkova and Egorova were colleagues, working at Moscow University's anthropology department. Egorova, who holds a PhD in history, had been Voronkova's mentor during an archeological expedition, during which they became friends.An investigation into the tragedy is underway to establish who should be charged over Voronkova's death – the shooter or the owner of the club, who allegedly allowed the violation of safety practices at their property. Normally, an amateur shooter would not be allowed to fire a semi-automatic handgun with more than one round loaded."You would load one round and allow a single shot. She would learn the recoil, and the instructor would see whether she can handle it or not. Then in theory, if the instructor sees that the student is in control, he may allow two or three rounds to be loaded. If they gave her a fully loaded gun and allowed shooting around, the blame is on the shooting range owner, who hired an incompetent instructor to train people," Igor Zolotarev, sports director of the Shooting Sports Union of Russia, commented for Vesti FM radio station.The Khishchnik club is a prestigious facility with a variety of entertainment programs for guests. It has been in the market for seven years.
You can share this story on social media: