Alleged modern-day Othello might face death penalty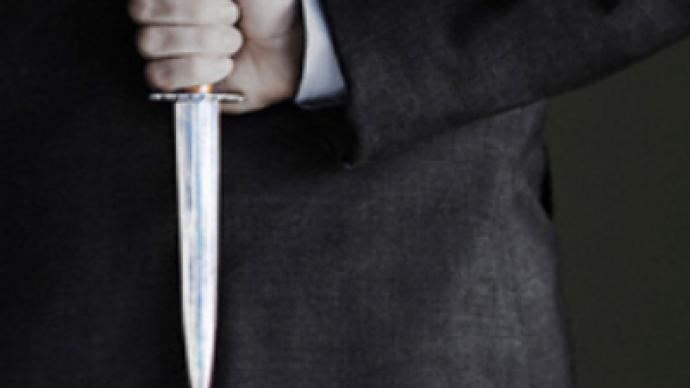 In Egypt one of the country's leading property moguls, Hisham Talaat Moustafa, is currently on trial, accused of paying US$ 2 million for the killing of Lebanese pop singer Suzanne Tamim. If found guilty, he might be sentenced to life imprisonment.
Tamim, a prominent Lebanese pop-singer was found murdered in her Dubai apartment in July. The victim's multiple stab wounds on both her head and body, led to rumours that she was beheaded. The rumours were subsequently proved to be false. According to her former husband's lawyer, her throat had been slit.
Rising star
By Arabic standards, 31-year-old Tamim was considered a rising star.
Her breakthrough came in 1996 when she won a popular Lebanese talent show at Studio el Fan. Tamim went on to release a number of popular albums.
However, her love affairs made the headlines even more often then her musical achievements. Soon after her first success, she divorced first husband Ali Muzannar.
In 2002 Tamim met impresario and producer Adel Matouk in Paris. She worked with him client and they soon got married.
But the marriage didn't last long either, as after only eight months Matouk asked her to quit singing and become a housewife. This time the divorce was painful and scandalous. Matouk filed a series of lawsuits against Tamim, including stealing US$ 350,000 from his safe.
He also accused her of trying to murder him after the car he was driving came under gunfire in Lebanon in 2004.
Kick boxer husband failed to protect
By this time Tamim's career was little more then a background for her private life. With two divorces and two albums (the last of which was released in 2002) behind her she moved to Egypt.
There she met Talaat Moustafa, who looked destined to become her third husband, despite already having a wife and three kids – polygamy is legal in Egypt. But Moustafa's family strongly objected to the marriage and the two split up.
Tamim then moved to London. There, during a shopping-trip to Harrods she met Riyadh Al-Azzawi an Iraqi-British Kickboxer. Their 2007 marriage (claimed by Al-Azzawi, despite Matouk's declaration that legally he remained Tamim's husband) looked a happy one until Tamim was murdered during her short visit to Dubai.
In August the suspected murderer, ex-policeman Mohsen El-Sukary, was arrested and led the police to the person alleged to have ordered the hit, Hisham Talaat Moustafa, who was also taken into custody in September.
When interviewed after Tamim's death, Al-Azzawi also pointed the finger at Talaat Moustafa.
"Suzanne told me that he had phoned her and said that if she left me and went to marry him he would pay her US$ 50 million. He then said that if she refused he would have her killed for US$1 million," Al-Azzawi told the Times newspaper.
According to Al-Azzawi, Talaat Moustafa had also threatened him and sent someone to London to kill him. The assassin chose to flee with the money he'd taken in advance and warning Al-Azzawi.
"I'm angry that I lost her. I was there to protect her but I was doing it all by myself. I didn't get any help from anybody. I did my best. But for five days she went to Dubai without me and look what happened," said Al-Azzawi, who blamed the police for lack of action. After repeated requests for protection, Scotland Yard just installed a panic alarm.
Unique trial
Until his arrest in September, Hisham Talaat Moustafa was the head of Talaat Moustafa Group (TMG), which is Egypt's largest property developer by market value, with 10,000 employees and growing profits. He was also a Member of the Shura Council, the upper house of Egyptian parliament, for the ruling National Democratic Party.
Following his arrest 49-year-old Moustafa gave up TMG to his brother Tarek and was stripped of his MP's legal immunity.
El-Sukaryi used to work as a security officer at the Four Seasons hotel in the Red Sea resort of Sharm el-Sheikh, built by the Talaat Mustafa Group and is owned by Talaat.
The unique trial featuring one the mightiest figures in Egypt, a close friend of President Hosni Mubarak's son and heir apparent, Gamal, began in October and looks set to last 6 or7 months.
Both defendants have pleaded not guilty and claim that UAE authorities could have fabricated the evidence, including:
a) the handbag with Talaat Moustafa's initials, which allegedly carried the killer's US$ 2-million reward;
b) recordings of telephone calls between Moustafa and El-Sukary, during which Moustafa allegedly advised el-Sukkari to 'throw Tamim from the balcony';
c) security video footage from the Dubai apartment, which allegedly displays how El-Sukary tricked Tamim into opening the door by posing as a representative of the building's owners and attacked her with a knife;
d) DNA from the bloodied clothes that El-Sukary allegedly left close to the scene of the crime.
Despite the crime being committed in United Arab Emirates, the case is being tried in Cairo, as Egyptian law does not allow extradition of its citizens.
At the second hearing, scheduled for Saturday but then moved to Sunday, November 16, Egypt's criminal court continued by questioning another 13 witnesses.
The high-profile case has attracted enormous attention in Egypt. People had to line up as early as 5am – four hours before the hearing– to ensure a seat in the courtroom.
Ruben Zarbabyan, RT
You can share this story on social media: