Al Jazeera, other TV stations forced off air in Egypt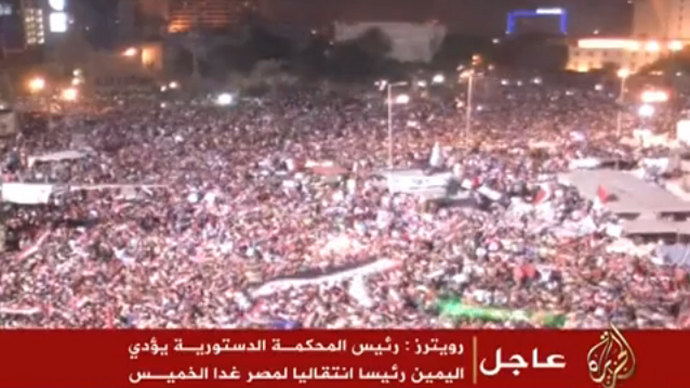 Al Jazeera's Egyptian broadcast has been taken off the air. Both Reuters and Al Jazeera itself reported that security forces raided Cairo offices and detained at least five staff members.
Karim El-Assiuti has told Reuters his colleagues at the Al Jazeera Mubasher Misr channel were arrested while working at their studio. The station was prevented from broadcasting from a pro-Morsi rally, and a broadcasting crew was detained.
Ayman Mohyeldin, a Foreign Correspondent for NBC News, reported via Twitter that security personnel entered the broadcaster's offices overlooking Tahrir square looking for Al Jazeera journalists.
Just had a group of men come to our office overlooking #Tahrir looking for Al Jazeera journalists @NBCNews@AJArabic@AJEnglish@SherineT

— Ayman Mohyeldin (@AymanM) July 3, 2013
The Qatari-owned Egyptian arm for Al Jazeera first began broadcasting following the 2011 toppling of former president Hosni Mubarak. It has since then been accused by Egypt's opposition of being sympathetic to Morsi and the Muslim Brotherhood.

Al Jazeera's live Egypt broadcast was on air as the country's security forces stormed the office arresting the presenter, guests and producers while they were off camera, as can be heard in the audio of the YouTube clip below:
You can share this story on social media: