NATO strike kills Afghan family – local officials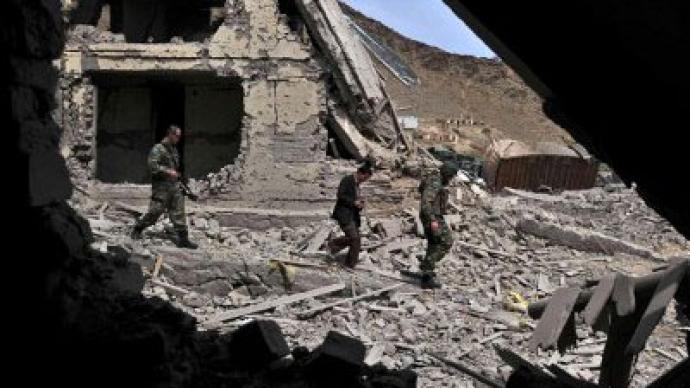 A coalition air strike has killed at least seven members of an Afghan family in eastern Afghanistan, local officials report. NATO has acknowledged the allegations and is conducting an investigation into the incident.
A spokesperson from the province of Paktia said the attack struck at around 8:00 pm on Saturday in the village of Suri Khail."The bombardment by ISAF killed the six children and wife of a man named Shafee," local official Rohullah Samon told Reuters news agency. He added that the strike was not coordinated with Afghan forces stationed in the area.Civilian casualties caught in the crossfire in Afghanistan are a serious bone of contention between the country's government and allied forces. The US-led coalition has pledged to withdraw from Afghanistan by 2014 and is gradually handing over security responsibilities to the Afghans.Last year was the deadliest so far for Afghan civilians, with 3,021 killed in spiraling violence according to a UN report.The report attributed 14 per cent of the civilian casualties to actions by international and Afghan troops.President Hamid Karzai criticized allied forces earlier this month, saying that mounting civilian deaths undermine Afghan trust in allied forces."If the lives of Afghan people are not safe, the signing of the strategic partnership has no meaning," Karzai's office said at the beginning of May.Earlier on Saturday the alliance reported that four troops had been killed in a series of bomb explosions in the country's southeast.The UK Defense Ministry has said that one of the victims was a British service member.The latest casualties have brought the death toll among NATO troops to 169 since the beginning of this year, averaging more than one death per day.
You can share this story on social media: