Air France fined for activist harassment, discrimination on Israeli orders
Published time: 6 Apr, 2013 02:02
Edited time: 6 Apr, 2013 02:05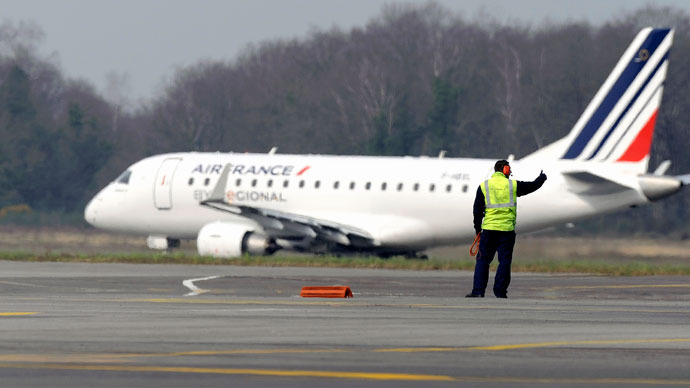 A French court has convicted Air France of discrimination after a flight crew member interrogated an activist about her ethnicity then had her ejected from a plane headed to Tel Aviv, where she had planned to attend a rally.
Thirty-year-old French nursing student Horia Ankour proved in a French court that she was approached in April 2012 by a flight attendant and asked if she had an Israeli passport, and then if she was Jewish. Replying in the negative to both questions cost Ankour her seat on the plane. She was planning on flying from Nice to Tel Aviv to attend a solidarity initiative called 'Welcome to Palestine.' 
"We cannot tolerate this kind of conduct on our territory," state prosecutor Abdelkrim Grini said during the trial. "Today they ask you if you're Jewish, tomorrow if you're Muslim, after tomorrow if you're homosexual or a trade unionist." 
An Air France official stated shortly following the incident that the flight attendant's treatment of Ankour came "on demand from Israeli authorities and in their name," Le Monde Diplomatique reported at the time.
That claim was confirmed by Air France attorney Fabrice Pradon, who testified that the demand to interrogate Ankour came "directly from Israeli authorities."

Ankour, like other activists who have experienced the same intimidation tactics and discrimination, was later sent a sarcastic letter from the Israeli government 'thanking' her for trying to come to Israel for humanitarian reasons, according to Israel Nation News.

She was also placed on an Israeli government list of "undesirables." 

Air France was ordered to pay 13,000 euro ($16,700) in fines, damages and interest in the Thursday ruling. Meanwhile, Pradon said the airline would appeal.