NATO's Pandora's Box: W. Africa flooded with Libyan weapons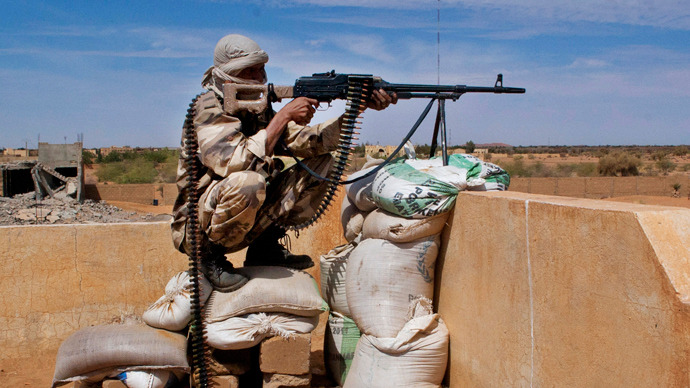 An estimated 10,000 to 20,000 Libyan firearms have been trafficked to other African nations, the UN reported. Ousted ruler Muammar Gaddafi's uncontrolled arsenal is reportedly a major source of instability in Mali, and the entire region.
The Monday report on organized crime in West Africa focused on the "flow of assault rifles from Libyan stocks to the rebels of Mali," revealing that "2,000 Tuareg mercenaries recently returned from Libya, carrying at least their own weapons."

The overthrow of the Gaddafi regime in 2011 left the stockpiles amassed by dictator during his 40-year rule uncontrolled and unaccounted for. The UN report could not detail the exact size of the arsenal, calling it "vast and sophisticated."

These weapons are now being trafficked across the Libyan border to other African countries, threatening regional stability. A threat that "appears to have been realized in northern Mali," the report said, echoing expert opinions previously voiced on RT.

"The rebel operations in northern Mali have existed for quite some time, but it was only in the aftermath of the overthrow of the Gaddafi government in Libya – which was promoted by France, Britain and the United States in particular – it was only after that that you had a massive flow of weapons out of Libya into the hands of the rebels, which basically took a low-intensity conflict and threw it into a much greater crisis where the rebels outgunned the Malian army," Jeff Steinberg, senior editor of the Executive Intelligence Review said in an interview with RT.

The weapons trafficking report comes days after an announcement made by UNESCO that French president François Hollande will receive the United Nations cultural agency's peace prize this year for his "valuable contribution to peace and stability in Africa."

"Well, I think the intervention in Mali is another follow-up to the French role in other destabilizations that we've seen, especially in Libya last year with the toppling of the Gaddafi regime," writer and political analyst William Engdahl said. "In a sense this is French neocolonialism in action."
Two years after Gaddafi's death, Libya appears to be on the brink of another revolution. Leaflets circulated in Tripoli calling for an end to the ruling regime through "popular revolt" and civil disobedience. Many Libyans blame the government for the economic hardships the country is facing. The southern regions of Libya are ruled by tribal militias and Islamists, with little regard for the country's coastal authorities. The de facto independence of those areas also contributes to problems in neighboring countries.
You can share this story on social media: