Insurgent violence against women, girls in Afghanistan jumps 20% - UN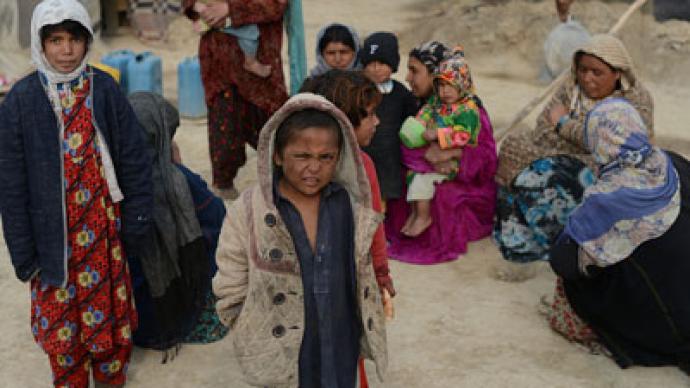 Violence against women and girls in Afghanistan is growing. A UN report says crimes against females jumped by 20 per cent last year, adding that the Taliban and other insurgent groups were responsible for 81 per cent of civilian casualties in 2012.
The annual report on the Protection of Civilians in armed conflict, released Tuesday, said that more than 300 women and girls were killed in 2012 as a result of targeted killings by insurgents. More than 560 were injured.
Deliberate targeting by the Taliban and other insurgents tripled last year. Most of the victims were hit while tending their homes or working in fields.
"The sad reality is that they were killed and injured while going about their daily work, their daily business," UN Human Rights Director in Afghanistan Georgette Gagnon said in a statement. "[The attacks] impact them for the rest of their lives."
The females are often the victims of roadside bombs, tripped by pressure plates embedded in the dirt, the report said.
"Conflict-related violence continued to seriously threaten the lives and well-being of thousands of Afghan children, women and men. This situation demands even greater commitment and redoubled efforts to protect Afghan civilians in 2013 and beyond," Gagnon said.
The report stated that 1,077 civilians died from targeted killings in 2012 – a 108 per cent increase from 2011. "Many of the casualties resulted from the intentional targeting of civilians perceived to be supporting the government, including government officials, religious leaders, tribal elders, off-duty police officers, and persons supporting the peace process," the report reads.
However, the report does show that the number of civilians killed by NATO-led and Afghan security forces dropped by nearly 40 per cent last year.
"The decrease in civilian casualties [the UN] documented in 2012 is very much welcome. Yet the human cost of the conflict remains unacceptable," UN Special Envoy to Afghanistan Jan Kubis said in a statement.
But innocent lives are still being lost as a result of NATO operations. Just last week, the alliance carried out an airstrike in southeastern Kunar province which killed 10 civilians.
The incident prompted Afghan President Hamid Karzai to issue a new decree banning the Afghan military from requesting aerial support from NATO-led forces. The decree went into effect on Monday.
Airstrikes by foreign forces in 2012 led to the deaths of 126 civilians, including 51 children. And while that number may seem high, it is 42 per cent lower than 2011.
It was the first fall since the UN Assistance Mission in Afghanistan started measuring such casualties in 2007.
The report comes amidst fears that militia factions will arise once again after Western forces withdraw from Afghanistan by the end of 2014.
You can share this story on social media: