Afghanistan agrees on regional security pact with Iran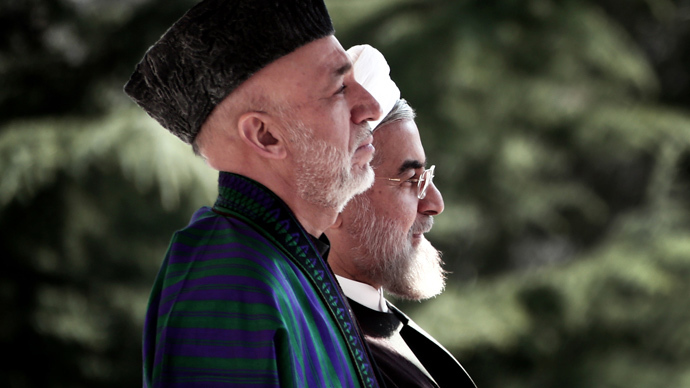 Concerned about the presence of foreign forces in the region, Iran and Afghanistan have decided to sign a joint cooperation agreement to boost "regional security" amid American efforts to force the Afghan president to seal a security pact with Washington.
"Afghanistan agreed on a long-term friendship and cooperation pact with Iran," President's Karzai's spokesman Aimal Faizi said, as quoted by Reuters. "The pact will be for long-term political, security, economic and cultural cooperation, regional peace."

Afghan President Hamid Karzai reached the deal with Iranian President Hassan Rouhani in Tehran on Sunday. The joint communique issued after the talks stipulates that foreign ministers of both counties were assigned to draw up the topics of such a pact, IRNA reports

At the meeting Rouhani voiced Iran's strong opposition to foreign presence and its destabilizing effect for the region.

"We are concerned about tension arising out of the presence of foreign forces in the region, believing that all foreign forces should get out of the region and the task of guaranteeing Afghan security should be entrusted to the country's people," Rouhani was cited by IRNA as saying.

The Iranian President reiterated the message on his twitter page after the meeting.
All foreign troops should be withdrawn from the region. Security of #Afghanistan should be entrusted to the Afghan people. [w/ Pres #Karzai]

— Hassan Rouhani (@HassanRouhani) December 8, 2013

For his part Karzai said that the Afghan government is keen on signing the pact with the Islamic Republic. The Afghan president also congratulated his counterpart on securing a nuclear agreement in Geneva that defused decades-long tensions.

Meanwhile US defense secretary Chuck Hagel said that he supports a NATO force in Afghanistan after 2014, as Washington and Kabul continue negotiations on securing a Bilateral Security Agreement (BSA) that will allow foreign forces to stay in the country past the deadline.

"I believe there is a role for our coalition partners and the United States, but that depends on the Afghan people," Hagel told US troops in Afghanistan on Sunday. "If the people of Afghanistan want to continue that relationship, then we will."

Hagel did not meet Karzai during his trip to US bases in Afghanistan this weekend, but he is optimistic that the new pact between US and Afghanistan will be signed. "I have hope that the BSA will get signed," he said on a stop in Kandahar as he acknowledged "uncertainty about what happens next."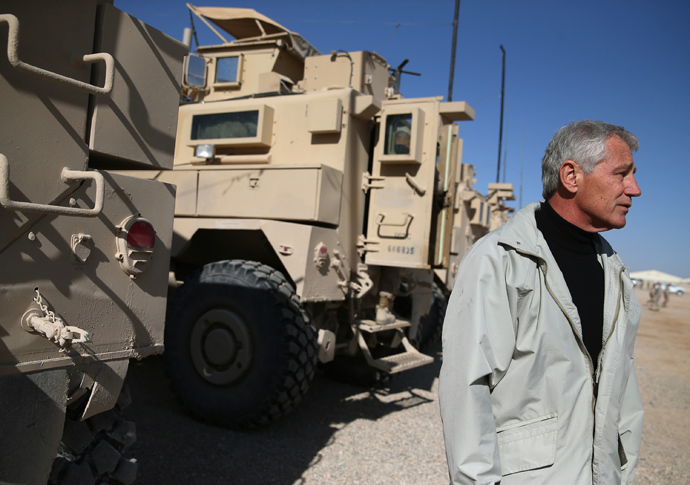 The defense secretary did discuss the security agreement with the Afghan defense minister, Bismillah Khan Mohammadi, who reassured Hagel that the pact will be signed in "a timely manner."
"I don't think pressure coming from the United States, or more pressure, is going to be helpful in persuading President Karzai to sign a bilateral security agreement," the defense secretary said Saturday.

Last week, Karzai said that he may not sign the US-Afghan security pact until April, despite approval from the Loya Jirga, an assembly of Afghan elders. On Saturday Hagel warned against the delay, saying there was "a cut-off point" at which time the pact would be scrapped, but adding he was "not prepared to give a date on that."

NATO chief Anders Fogh Rasmussen also urged Karzai to sign a security agreement with Washington by the year's end.

"Let me be very clear: It is a prerequisite for our presence in Afghanistan beyond 2014 that an appropriate legal framework is in place," Rasmussen told reporters at a briefing at NATO headquarters in Brussels on Tuesday. Without the deal "it will not be possible to deploy, train, advise, assist the mission to Afghanistan after 2014," Rasmussen said.

There are currently around 80,000 NATO multinational International Security Assistance Force (ISAF) troops in Afghanistan, the majority of which are US soldiers who now stand to be pulled out by the end of 2014. NATO is planning to leave a training mission of up to 12,000 soldiers in Afghanistan after 2014 to help Afghan Army fight insurgents.

The US previously warned that forces would have to leave by the end of next year, the so-called "zero option," if Afghanistan fails to sign the pact. And if the Americans leave altogether, the other ISAF member states are unlikely to leave their troops in Afghanistan.

However, Karzai's spokesman Aimal Faizi said Saturday the warnings of a complete pullout "is more a tactical maneuver to put pressure on President Karzai to sign [the pact] as soon as possible." "We believe there's no deadline," Faizi said.
You can share this story on social media: