​Abdullah, Ghani lead in Afghan presidential poll as 10% votes counted
Published time: 13 Apr, 2014 17:25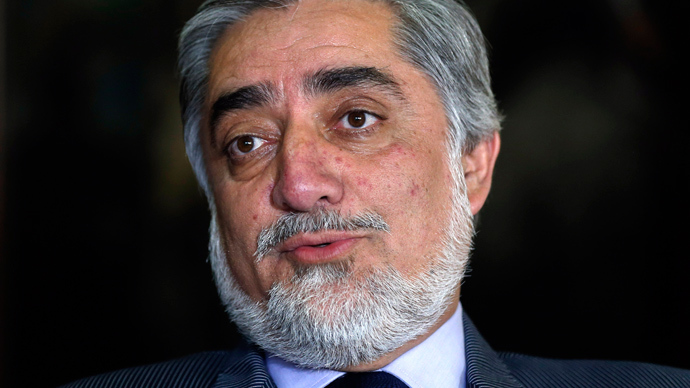 First results released after the Afghan presidential elections show that with about 500,000 votes in 26 provinces counted former foreign minister Abdullah Abdullah is slightly ahead in a tight race with finance ex-minister Ashraf Ghani.
Abdullah is leading with 41.9 percent, which is 4.3 percent more than Western-leaning academic Ghani (37.6 percent) has so far, the Independent Election Commission said. This is after just a small part of some seven million votes cast in total across Afghanistan's 34 provinces have been counted.
Zalmai Rassoul, also a former foreign minister and a third candidate, running with the backing of two of President Hamid Karzai's brothers, trailed far behind with 9.8 percent.
The results will now emerge every day, and some ballot boxes have yet to arrive in Kabul from remote places travelling by donkey. Full preliminary results are expected by 24 April. If none of the candidates gets over 50 percent of valid ballots, a runoff will take place on May 28.
If this becomes the case, vote counting is likely spill into the end of June, when the holy month of Ramadan begins.
"We hope that the courting will proceed coherently and that there will be an announcement soon," Ashraf Ghani told RT Arabic.
Afghan presidential elections took place on April, 5, despite Taliban threats to disrupt the vote "at any cost." Due to an unexpectedly high turnout polling was extended by over an hour. A total of 12 million Afghan citizens were eligible to vote. With over seven million voting the turnout was roughly 58 percent.
From the beginning Abdullah and Ghani were believed to have the best chance of winning the election.
In 2009 election, Abdullah Abdullah, who served in Burhanuddin Rabbani's pre-Taliban government, finished second withdrawing after a run-off with Karzai. Abdullah served five years (since 2001 till 2006) as foreign minister in the transitional government.
His main rival, Ashraf Ghani finance minister in Karzai's transitional government and later became head of the national security transition commission. In his campaign he especially stressed the need for infrastructure projects.
"We need to do the infrastructure and enhance the process of making sure that the legal structure in in place," he told RT Arabic.
In total there are eight candidates competing for the presidency to replace Hamid Karzai after 13 years of rule.
On the day of the elections the Independent Elections Complaints Commission registered over 3,000 violations, which Karzai vowed to investigate before he steps down.
The election results will be closely followed by Washington, which failed to seal a security pact with Karzai in the months running up to the election.
The proposed US deal would allow a number of American troops to stay behind in Afghanistan following December's scheduled pullout to help with the security effort. Karzai has slammed the agreement and condemned it as indicative of an American policy of interference, while frontrunners Abdullah and Ghani have both pledged to sign the pact.
"Upon signing of the bilateral security agreement Afghans alone will be making decisions on use of force. We need our national security forces," Ghani told RT Arabic.