​9 people, incl 4 foreigners, killed in Taliban attack on Kabul hotel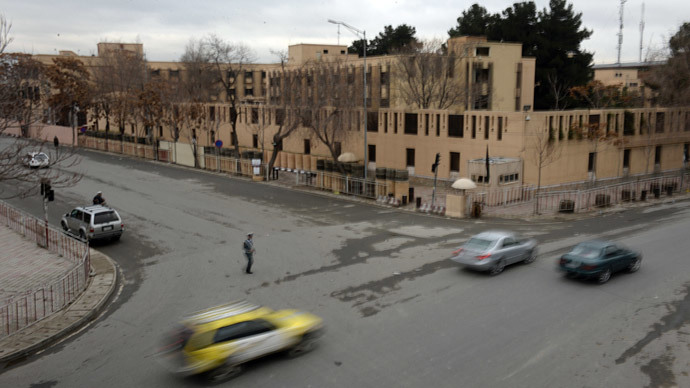 Nine individuals, including four foreigners, died after a shooting and subsequent firefight inside the luxurious Serena Hotel in Kabul, AP reported, citing a top Afghan official. All of the assailants were killed in the incident.
Taliban insurgents claimed responsibility for the Thursday attack.
Deputy Interior Minister Gen. Mohammad Ayub Salangi told the Associated Press on Friday that the Afghan fatalities were two men, two women and one child, while the were two women and two men. He did not provide the nationalities of the deceased. All of them were gunned down in the hotel restaurant.
Four teenage assailants were reported killed in the attack.
Many foreign observers are staying at the hotel - which is located near the presidential palace - ahead of the April 5 election.
Officials initially said only two security guards had been wounded in the violent assault.
The attackers, all of them under 18, reportedly entered through a back door. As clashes ensued, guests were herded into safe rooms by security staff. Early Friday saw armored cars filled with foreigners leaving the premises, as the situation returned to calm.
Earlier on Thursday, the Taliban killed 11 Afghan policemen, one civilian and wounding a further 15 policemen in an assault on a police base in the eastern city of Jalalabad.
"Our people, if they decide to attack any place, they can do it," said the group's spokesman, Zabihullah Mujahid.
This is not the first attack to take place at the hotel; the building came under rocket attacks in 2009 and 2010. In 2008, six people were killed in a suicide bombing.
The bold attack underscores the rising challenges the national Afghan force will be facing not only with the upcoming elections, but with the winding down of US military presence in the country as well, as local military capabilities and training are put to the test.
It also looks like the Taliban is making good on its threats to use violence ahead of the April 5 vote, which will be the first democratic transfer of power since the US invaded Afghanistan in 2001, removing the Islamic movement. Current President Hamid Karzai is barred by law from seeking a third term. His successor will inherit the post for the next five years.
American relations with Karzai have become increasingly strained as of late, especially given the president's refusal to sign a bilateral security agreement that would allow thousands of their troops to stay in the country after the late-2014 withdrawal. The president took further steps that signaled his disagreement with international tactics when on Thursday he freed dozens of prisoners detained by them at the Parwan Detention Center.
Although this disappointed the British, who themselves had put away 40 of the prisoners for various crimes, their embassy has said the move must be respected, "because it is an Afghan decision."