Unfriendly fire: US hush-up over Afghan allies killing American troops?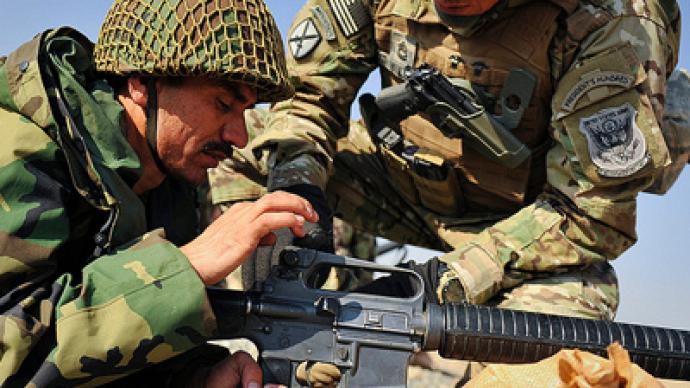 Another instance of an Afghan soldier shooting his American partner has leaked to the media. As US troops grow wary of their Afghan trainees, the Pentagon only says that Lance Cpl. Edward Dycus died "while conducting combat operations."
The US is racing against the clock to train Afghan troops to secure the country after Washington finally withdraws in 2014. But as time goes on, the trainees seem to be turning into the most-feared enemies. Lance Cpl. Edward J. Dycus was shot in the back of the head on February 1 while standing guard at an Afghan-US base in the southwestern province of Helmand. The Pentagon merely reported that the corporal died in "combat operations," but Marine officers have unofficially confessed that the soldier was killed by his ally's hand.The lance corporal's parents received a note that Dycus was killed by an Afghan soldier, the Associated Press reports. Other details of the murder are being withheld as the investigation continues. In the last six weeks, this is the seventh killing of an American soldier by an Afghan partner. Following the burning of Muslim holy books at Bagram Air Base, an Afghan soldier gunned down two US troops on February 23. Eight days later, two more American combatants were killed inside an Afghan ministry and two Army paratroopers were shot by Afghan soldiers in Kandahar province.But Pentagon casualty announcements never mention the friendly-hand-gone-foe. Thus, the two soldiers killed on February 23 were said to have died of "wounds suffered when their unit came under small arms fire."Though US officials claim that the latest anti-American outrage in Afghanistan was provoked by the Koran incident, the killing of Lance Cpl. Dycus shows this is not a momentary issue.The corporal's life was actually taken almost three weeks before the soldiers at Bagram accidentally put the sacred Muslim texts into a waste incinerator. First warnings of a "rapidly growing systemic threat" for American soldiers were voiced back in May 2011 in a classified report submitted by Jeffrey Bordin, a behavioral scientist with the US Army in Afghanistan.Bordin wrote of a dangerous "crisis of trust" between American and Afghan forces, which could unwind into an "unprecedented" magnitude of killings "between 'allies' in modern history."The report received a harsh review among coalition officials, says The Wall Street Journal, but nine months after it a spokesman for the Security Assistance Force still describes the number of American troops killed by their Afghan partners as "high." "We just never know if there's a Taliban sympathizer among the Afghan Army troops or within the security forces," an Army official told The Washington Examiner. "We remain very aware that at any time we may have an enemy among us with direct access to our troops inside the wire."Journalists have counted at least 70 American soldiers killed by Afghan Security Forces since 2007. According to The Washington Examiner, this is just a tiny part of the total number of Afghan allies' attacks on American troops. Washington does not disclose the actual figure, but concerns are high that if revealed, the official statistics will be underreported. US Army officials serving in Afghanistan say that numerous incidents are just ignored, "particularly if no one was injured."Stopping Afghan treachery has never been more vital for US troops, as they are taking on the new role of mentors and advisors, preparing to hand over security responsibilities to local forces, Maj. Gen. John Toolan stressed in his interview with AP. NATO has approved boosting intelligence and counterintelligence staff in Afghanistan to reduce the risks, but how efficient will it be? In his report, Bordin said that the gap between the Afghans and Americans is more than Taliban infiltrators seeking to topple the US-backed government. The allies are divided by a solid mutual dislike coupled with a desire to survive at the other's expense.
You can share this story on social media: