Well-known ads "hijacked" for nationalist march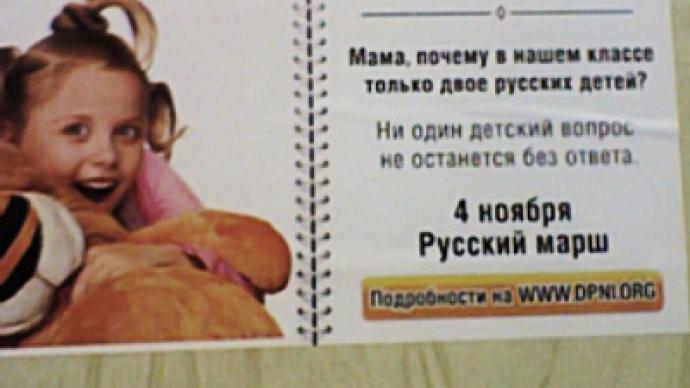 Muscovites have been shocked by provocative ads in the metro on Tuesday: colorful posters resembling those of a popular mobile operator have been calling on people to join a nationalist group rally.
Who's that girl?
The scandalous posters featured a little girl of obviously Slavic appearance. Like the children on one of the leading mobile companies' ads, she was asking adults a question. But while a mobile company was advertising the price for children to make less expensive calls to parents to ask anything they were eager to know, her question was very different from what can be called ordinary children's curiosity.
"Mommy, why are there only two Russians in our class?" – the text on the poster reads, and adds that the "answer" can be found on a nationalist organization web site. It also called on people to attend a nationalist rally: the Day of National Unity will see nationalists gather for their so-called "Russian March" in cities across the country on November 4, a public holiday.
The ads drew much attention because of the easily recognized colors, fonts and style used by the mobile operator's funny and entertaining posters, so whoever was behind the ill-mannered campaign apparently received the result they sought.
Still, it's not yet obvious who exactly organized the action.
"Expensive volunteering"
Vladimir Tor, a member of the National Counsel "Movement Against Illegal Immigration" (the very organization whose site was promoted on the notorious posters) strongly denies his group's involvement in the metro propaganda.
He said that the rally – the so-called "Russian March" – is an event in which several different organizations are taking part, and the "Movement Against Illegal Immigration" is just one of them.
"There's a huge amount of Russian March advertisement, and the one we're talking about now – I don't see anything criminal in it, I think it's quite normal," Vladimir Tor told RT.
"Neither I nor the head on the Counsel were responsible for the poster made in this particular form".
According to Tor, the sample of the leaflet was published on the site where the organization's supporters and members post self-made designs for their posters, and the one which appeared in the metro was there, too.
"Those were the people who did it – we ourselves don't even have a bank account. Such things are made with money from those people who want to see their own ads in action".
He also argued that using the mobile operator's corporate colors should be interpreted in a different way: Tor noted that yellow, black and white colors were used on the old Russian so-called "imperial" flag.
"We didn't sue them because of that, so I think they won't sue us either", said Tor.
However, the posters are too expensive and professionally-made, too numerous, and the ads don't look like they were created by some underage skinhead-inspired amateur designer.
Also, it would be logical to think that such a massive and eye-catching advertising campaign should have been authorized by the Moscow metro administration. Further, the company "Olimp", which sells advertising space in the metro, says it never placed these kind of posters underground.
"The stickers in the carriages, calling people to join the Russian March, were placed there illegally," Albert Teplitsky, Deputy Commercial Director of "Olimp", told RT.
"We have asked the metro administration to immediately remove the posters," he added.
National unity – for some, national hate
What could be done to those responsible for the provocation? The info-analysis SOVA center's representative, Galina Kozhevnikova, said the people who hung the posters, if found, could be punished.
"Not only administrative measures can be taken against them because of their illegally placing ads; also, if someone gets caught with not one or two, but a pile of these posters, it would prove they performed a massive campaign. Furthermore, if the prosecution chooses to prove this contained xenophobia, the affair could be regarded as criminal", said Kozhevnikova.
But is it only the creators of the ads who should be blamed, or those who allowed it appear in the carriages without any problem? Kozhevnikova believe it's not quite so simple.
"No one here complains of discrimination, and that's a huge problem," she pointed out.
"It regards very different groups, but people don't realize that what is happening to them is, in fact, called discrimination".
Society really may seem too tolerant towards hate crimes, though there have been several publicized trials like that of the "Ryno-Skachevsky gang" and the so-called "White Wolves" and "The Black Hawks" gangs. However, as long as many Moscow online tabloid headlines read like "Millions of migrants going to rob Muscovites", those people getting used to using discrimination and racial hatred may seem too hard to fight in the near future.
You can share this story on social media: