Notorious Abu Ghraib prison shuts down amid increasing Iraqi violence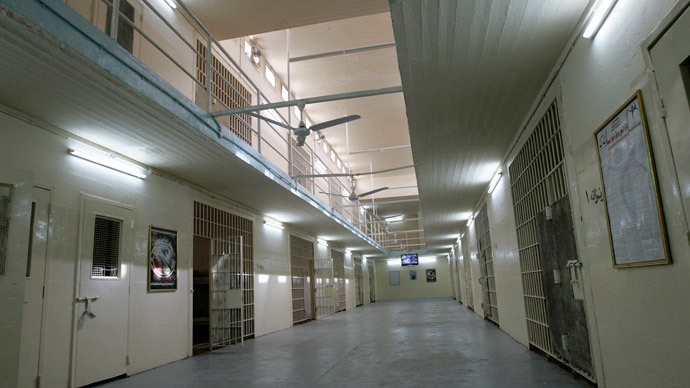 The infamous Abu Ghraib prison, where US soldiers created an international scandal by committing human rights violations against Iraqi prisoners, has closed over fears that it could be overtaken by Sunni insurgents, the Iraqi government has announced.
The Iraqi Justice Ministry said in a statement Tuesday that 2,400 inmates had been moved from the facility to other high-security prisons in central and northern Iraq, where the situation outside prison walls is more secure. Abu Ghraib is located to the west of central Baghdad, in an insurgent-controlled region of Anbar Province.
Whether the closing is temporary or permanent remains to be seen but, according to The New York Times, the announcement is another sign of uncertain security conditions throughout the war-torn country.
Until British contractors constructed the prison in the 1950s, Abu Ghraib was little more than a desolate farming community where multiple Iraqi tribes coexisted. Saddam Hussein filled the prison with tens of thousands of inmates and, in 2002, began an expansion project that would have added six new cellblocks to house criminals and enemies of Hussein's government.
Hussein gave amnesty to prisoners on the brink of the US invasion, at which point Abu Ghraib was looted and vandalized. American forces then used the prison to incarcerate prisoners of war. Abu Ghraib entered the international lexicon in early 2004, when it was revealed that US troops physically and sexually abused, tortured, raped, and killed inmates at Abu Ghraib. In part because of the disturbing images captured inside the facility, Iraqi fury with American forces forever changed the perception of the war.
As US forces completed their withdrawal years later, experts said that Iraqi Prime Minister Nuri Kamal al-Maliki has also used the prison for brutal purposes.
"The place should be a museum of torture, for what happened there under Saddam, the Americans and Maliki," a former prisoner who wished to remain anonymous told the Times on Tuesday.
Hundreds of prisoners escaped from Abu Ghraib last year when nearby Fallujah fell under the control of Islamic State of Iraq and al-Sham (ISIS) fighters, who are affiliated with Al-Qaeda. A coordinated attack on Abu Ghraib and Taji prisons freed more than 500 prisoners and killed 120 Iraqi guards and SWAT forces, an Al-Qaeda spokesman told reporters last year.
Witness Yousef Ali told the Guardian that the figures are likely not as high as Al-Qaeda claimed, although the scene was so violent that it could be heard for miles.
"We began to hear mortars and gunfire, followed by two car bombs," he said. "We could tell there was a big fight inside the prison. We could see aircraft hovering above the prison and nearby areas."
Observers have been unable to agree on how much danger the freed prisoners present to the public. Saad Al-Muttalibi, an Iraqi lawmaker, said last year that it was obvious a lapse had taken place.
"Some of them were terrorists who had confessed their crimes and were awaiting execution, others were detainees who had been transferred to Iraqi control from American custody when US forces left," he said.
"This was a big failure by Iraq's security forces and the initial report by the crisis cell dealing with this incident indicates that some of the guards cooperated with the attack. Telephone and other communication equipment was also found on some of the dead attackers inside the prison."
Eager to avoid a second such incident, Iraq's Justice Ministry began moving inmates out of Abu Ghraib at night, completing the task during curfew hours – when vehicles are forbidden from traveling between midnight and 4:00 a.m.
The United Nations announced that almost 8,000 Iraqi civilians had been killed in attacks in 2013, with another 2,000 dead in the first three months of this year, although exact figures are impossible to ascertain. Residents living in the area told the Times that the escalation has come closer to Abu Ghraib, with gunmen walking the streets freely.
"We heard today that they have closed the prison, but what about us. The people of Abu Ghraib, what will happen to us?" one man said. "Will they transform us in to another country if they can't protect this area?"
You can share this story on social media: