No need for intifada, Palestine can achieve goals peacefully – Abbas to RT
Palestine has won UN recognition as being a sovereign state, and will now be referred to as the "State of Palestine" on all future UN documents. Palestine's Mahmoud Abbas calls the move a "major achievement."
It's led many to question whether Palestine can now take Israeli crimes against Palestinians to international courts.
In an exclusive interview with RT, Abbas said that while Israel has considered Palestine disputed territories for many years, Tel Aviv will no longer be able to argue who the land belongs to.
And while Israel continues its illegal settlement activity on occupied territories, Abbas says he is focused on coming to a solution with Tel Aviv through peaceful means – because fighting will only lead to Palestine's destruction.
He added that all Arabs and Muslims are ready to have peace with Israel, and said that Palestine must make sure that Israel and its supporters do not have reason to continue with the current situation.
Abbas spoke to RT Arabic correspondent Salam Musafir during an official visit to Moscow. While in Russia, the leader received a state friendship medal from President Vladimir Putin.
RT:Do you think this medal symbolizes Russia's continued support of the Palestinian people?
MA: Definitely. This medal symbolizes Russia's solidarity with Palestine, a long-standing warm friendship between the Russian and the Palestinian people, which started back in Soviet times. We share a similar stance on a number of issues, including those on the UN agenda. The medal is a big honor for all of us.
RT:Starting today, all official UN documents will use a new legal name for Palestine – it will now be the "State of Palestine" instead of the Palestinian National Authority. Many wonder if this could allow Palestine to take the cases of Israel's crimes against the Palestinians to international courts for the first time ever. What can you say about this?
MA: One of our major achievements is the fact that now our territories are officially called an occupied state. For many years now Israel, supported by many Western countries, has considered Palestine disputed territories. And if the territories are disputed, they could argue about who this land belongs to and to what extent.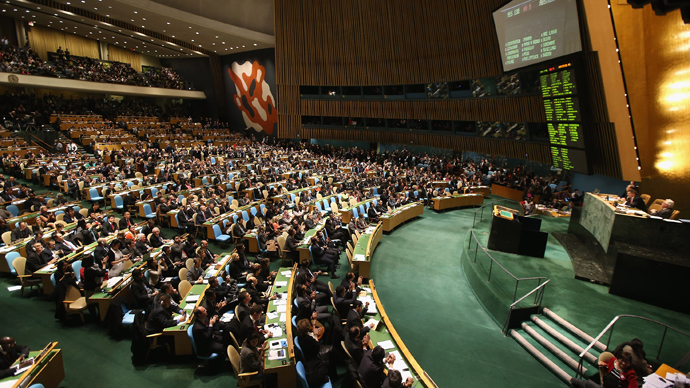 Now Israel cannot do this anymore. And we now have the right to become full, permanent members in any international organization. Of course, we are a little behind with this work, but hopefully the ongoing negotiations will result in establishing a sovereign Palestinian state and finding a political settlement. Over the past 4-5 years, Israel has been very stubborn, so we think this decision should be made at the UN. We are still waiting. We hope that these talks will be successful, but then we'll be able to appeal to international organizations at any point. If these negotiations fail to yield any results, the Palestinian people will have the right to act as they see fit.
'Israeli settlements key for peace negotiations'
RT:In defiance of international criticism, Israel continues with its illegal settlement activity on occupied territories. Many members of the new Israeli cabinet known for their radical views reside in such territories. How can there be any hope for successful talks in such conditions?
MA: They all think that it is their legal right to expropriate our land, no matter what their actual political platforms are. Even those members of the Israeli government who don't live on expropriated territories think that it's still their legitimate right. We are very much concerned about this kind of perception.
It doesn't matter if the current government stays or goes – the problem of land annexation still remains. According to all international documents, all UN documents, twelve Security Council resolutions, land expropriation and settlement activity are illegal and must be stopped – it has been this way since the 1970s.
The UN Human Rights Council clearly stated that this policy is illegal and demanded a withdrawal of all settlers. If the current Israeli government continues with this rhetoric, there won't be any negotiations.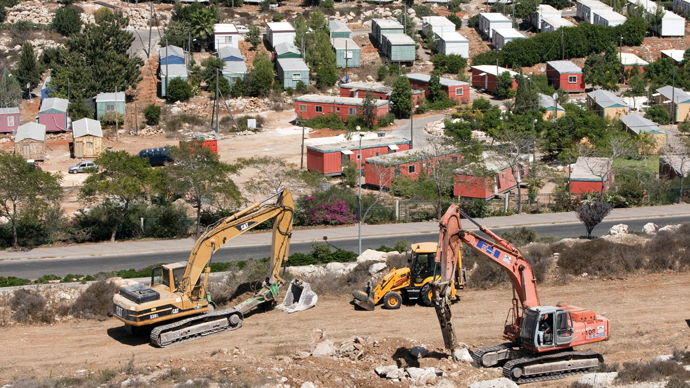 RT:Does that mean that Palestinians have no other choice but to start another intifada?
MA: My opinion is that today there's no need for Palestinians to go back to fighting. The balance of forces is not in our favor, so it will only lead to the country's destruction. Just look at the Second Intifada and its repercussions. Our people can achieve their goals through peaceful means, like it happened at the UN. But it's not easy.
The changing role of Hamas
RT:Today, the other part of the Palestinian resistance, Hamas, is increasingly leaning towards a political solution of the problem rather than a military one. Have you noticed the shift?
MA: Yes, we have. Moreover, that's something we have agreed on. A number of Hamas members support this stance. That's what we agreed on during our meeting in Cairo, and several months ago at the summit of the Organization of Islamic Cooperation we reaffirmed that the Palestinian people have the right to non-violent resistance. We are going back to the negotiating process. There is no disagreement on this between us and Hamas leaders, though some keep saying that they don't consider a peaceful solution the only option and don't rule out military struggle. But all this talk stopped at the Cairo meeting, which was sponsored by the US and Egypt. Now this is Hamas's official stance. Pay no attention to the odd Hamas members that say different. 
RT:Can these odd dissident voices affect the reconciliation process? 
MA: No. This is an entirely different topic. We agreed on all the political aspects of the reconciliation. The main thing – and we have agreed on this – will be to set up an interim government with me as its head. So here's the compromise: after Fayyad's government stands down, which is what Hamas wanted, I will become the head of the new government, which Hamas has no objections to. They were the ones that insisted I lead the independent interim technocratic government. The next step will be to hold a general election. These are the two main steps of the reconciliation process, and they are being carried out simultaneously. That's what we agreed on, but I do not know what prevents us from launching the process. That's all I have to say on this issue. 
Expectations from Obama's visit
RT:Speaking of the US pressure, President Obama is going to visit Israel soon, and on his way, perhaps he'll pay a brief visit to Palestine as well?
MA: Actually, this will be an official visit to Palestine. He'll go to Ramallah, where we'll hold talks. The only thing we don't know yet is the duration of his stay. We have already planned all the official ceremonies: we'll greet him at the airport, hold talks, and see him off. That will be a full-fledged official visit – just like the one he will pay to Israel and Jordan.
RT:Who will Obama appeal to – Israelis, or Palestinians, or both?
MA: I hope he will appeal to those who break the law. In his statements, President Obama has repeatedly voiced his opposition to illegal land expropriation, and we think he's right. Now all that remains is to translate words into action. I have always asked Americans and Europeans to tell me if there has been a single miscalculation on my part in domestic or foreign policies over eight years – while Israel makes mistakes every day. So why don't you let them know?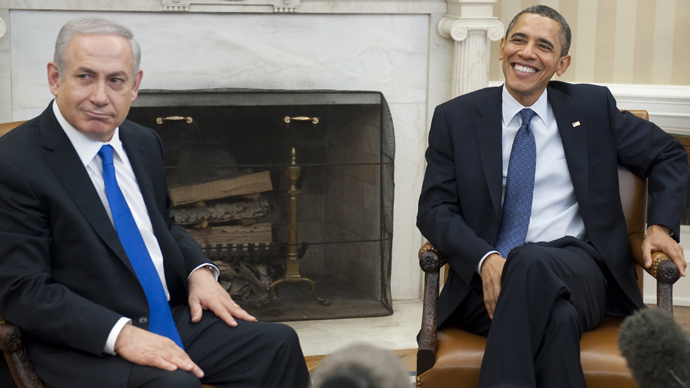 RT:Do you think that Hamas is also under pressure from its ideological allies, the Muslim Brotherhood-backed government in Egypt, a key force in the region?
MA: Egypt has definitely helped to facilitate the Cairo reconciliation deal, and pledged it would take up responsibility in case it was breached. Until now, Hamas has breached none of the conditions. If someone else smuggles weapons inside the Gaza Strip and Israel targets them, Hamas has nothing to do with it. As I said, Egypt sponsored these agreements and Hamas has been following them. When these questions were discussed in Cairo, Khaled Meshaal signed up to everything. In fact, Egypt didn't ask for selective compliance; instead, it wanted the parties to abide by the obligations in full. Now that Meshaal has signed up to these agreements, he should stick to them – and this has nothing to do with pressure.
RT:What do you think of Egypt's role today as opposed to the past?
MA: Egypt is playing the same role as before. What I mean is that it has always stood for the Palestinian resistance. Given its geographic location, its history, its international influence, there is no way for Egypt to stop supporting Palestine – it has been on our side throughout its history. It has a strategic interest in resolving the Palestinian issue. It has always been a top priority for Egyptians – regardless of who is in power: Mubarak or Sadat or the incumbent leadership. It's as crucial to our cause as Mount Horeb is to the Muslims.
RT:The EU is said to be considering a move to take Hamas off the list of terrorist organizations. Do you think that this may be an attempt to legitimize the Hamas-led government?
MA: I don't think so. After the recent developments, the chances are quite high that the Hamas government may be recognized as legitimate. If Hamas is committed to the ceasefire and if it openly pledges to stick to the peaceful popular resistance, I don't see much difference between their policy and ours. In this case, there is no need to label them as a terrorist organization.
RT:But you didn't target Israel with rockets….
MA: Neither we nor Hamas did. Not any longer. After the Second Intifada, we decided to give up on armed resistance. And let me be totally frank with you: we don't want to launch any armed resistance whatsoever. Hamas has said the same. Yes, there were clashes in the past, but they have stopped – and I'm grateful to Allah for that.
Palestine expects the Arab League will keep its promises
RT:What are your expectations of the upcoming Arab League summit in Doha?
MA: There's only one expectation: I hope the Arab countries will fulfill the obligations they took at the Baghdad summit last year, where they pledged to send 100 million dollars to the Palestinian Authority for security purposes on a monthly basis. Ever since, we have met with foreign ministers, with chairmen of the Arab League committees, as well as the Organization of Islamic Cooperation, next we will talk to the Arab League members at the Doha summit. We are going to tell them, we would greatly appreciate if you kept your promises.
RT:Do I get it right that you never received any assistance?
MA: Correct.
RT:What's your explanation, then?
MA: I don't know how to comment on this. I'm not going to talk much about this, but we never received a single dollar. The Arab League Secretary General put so much effort into this, but it was all in vain.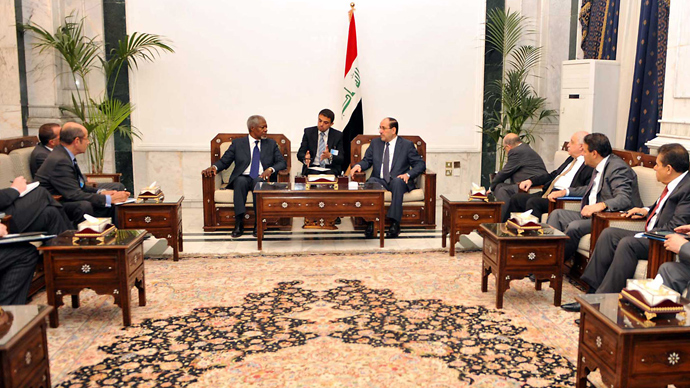 RT:Recently a delegation of four Foreign Ministers of Arab countries, led by the Secretary General of Arab League, visited Moscow. During the meeting the Arab Ministers told Russian Foreign Minister Sergey Lavrov that Russia should dissociate from the Middle East quartet of international mediators. The Arabs consider it incompetent. Would you agree with that?
MA: No. We think that the quartet has to assume a more active stance, perhaps even include new members. If the quartet ceases to exist, though, what's going to replace it? During Arab League summits, a lot of Arab countries proposed to exclude the Arab Peace Initiative from the existing legal framework for a peace settlement. We were against it, because we don't see any alternative. Just think about it. There are three possibilities: war; no war, no peace; and peace. Do the Arabs want to go to war? No. If there is no war, but no peace, it will only bring more misery. The Arab Peace Initiative introduces opportunities to secure peace. So why not use it in the talks with Israel? I think such things about the Arab Peace Initiative are said on the spur of the moment. As I said, the only alternative to the Initiative is war. But I am convinced that no one wants that. The time for wars is over. If the war starts, God only knows what kind of ramifications it will have. That's why we advocate peace, and only peace.
How can we secure peace? We now have a viable initiative, for the first time since 1948. Israel hasn't responded to it yet, and the Arabs didn't bother to promote it, hammer it home to the Israelis and the Americans. No Arab state took the trouble to tell the world, "Here's the Arab Peace Initiative, please read it – it's only one page long". Then many people could have realized that yes, it is, in fact, a peace initiative. We tried to circulate it via the mass media in different countries, including Russia, the EU, the US, China, and Israel. But our resources are limited. We managed to publish the text of the Initiative only once. But if the Arabs had been serious, they would have made sure that mass media all over the world buzzed about the Arab Peace Initiative. The idea is simple: if Israel refused to adopt the Initiative, it would be crystal clear who is obstructing the peace process in the Middle East. The international community could have cornered Israel.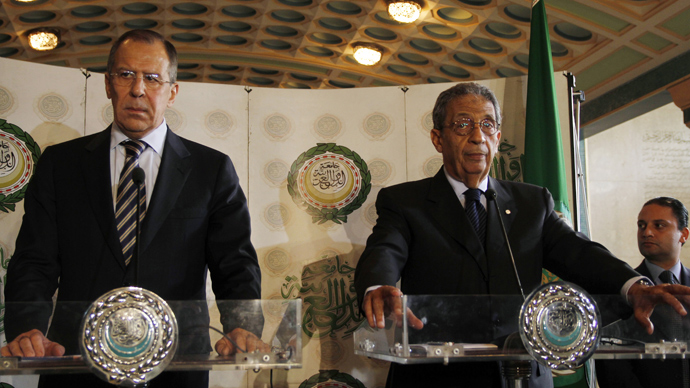 RT:Yes, maybe that's why Foreign Minister Sergey Lavrov said at that meeting with the Arab foreign ministers that Arab countries do not put enough pressure on their Western and American friends to advance existing initiatives?
MA: We don't want any pressure. Nobody can put pressure on anyone at the moment – neither Arabs nor other stakeholders. Even the Americans could not put pressure on anyone. There's much difference between pressure and noble intentions. You should try to convince others through friendly talks and constructive discussions. Pressure is very unlikely to yield positive results. I will give you a simple example. During the UN vote on the status of Palestine, we got the support of 138 states, including 20 European countries. We also consider those 41 states that abstained from the vote our supporters. Israel only had 9 countries on its side. So even though we don't have weapons, don't have oil or other resources, we can achieve something. We were able to convince the world that the truth is on our side. And that's why countries voted for us. Why aren't our Arab brothers doing anything to help us capitalize on this broad international support?
RT:The Arab brothers are saying that Israel is being stubborn, and they can't do anything about it.
MA: That's true, the Israelis are very stubborn. But you can challenge them over it. And there's only one way to do it – to use the Arab peace initiative for that. The whole world is urging Israel to withdraw from the occupied Arab territories, right?
All Arabs and all Muslims are ready to have peace with Israel. Arabs are not going to attack Israel after it withdraws from the occupied territories. We have to make sure that Israel and its supporters do not have any reason to continue with the current situation. Right now Israel's President and Prime Minister have opposing approaches. The president says, "Yes, we have Palestinian partners in the peace process, and it is possible to reach a two-state solution."  But the Prime Minister is against this approach. So there are people who we could have a dialogue with, we could try to convince them. But there are also those who force us to exhibit a different kind of behavior.  We need to expose them. It is not enough to keep telling the Israelis that they are doing wrong by us, violating our rights. But so far our Arab brothers just declared that Israel is not interested in the peace process, therefore we, Arabs, are not going to do anything.
'Palestinian refugees in Syria should stay away from conflict'
RT:What are the challenges facing Palestinian refugees in Syria's Yarmouk Camp? What do you do to have their needs addressed?
MA: We share the same attitude with the leaders of all Palestinian organizations regarding the recent uprisings in Arab countries: Tunisia, Libya, Egypt, Yemen, and Syria. We do not interfere in those nations' domestic affairs. When unrest erupted in Tunisia, and then in Syria, all of us were strongly in favor of not getting involved. I met with all the leaders of Syria's Palestinians, advising them to stay away from the Syrian infighting, because that is a strictly domestic issue. That first visit of ours produced positive results: for about 18 months, Syria's Palestinian camps remained absolutely safe. In line with the well-known utterance of the Prophet, ["He who enters Abu Sufyan's home will be safe,"] Palestinian camps acquired a similar reputation: "He who enters a Palestinian camp will be safe."
But unfortunately, unrest and violence suddenly broke out in Yarmouk Camp. A split emerged among the Palestinians, and with it trouble. Some people resorted to arms, and others chose to move elsewhere. About a month ago, I ordered another delegation to go to Syria. I told our Palestinian brothers that we must stay out of it, that we should not become a party in this conflict. And we'll pay more visits to Syria if we need to, because we don't want Palestinians to get involved in all this carnage and destruction.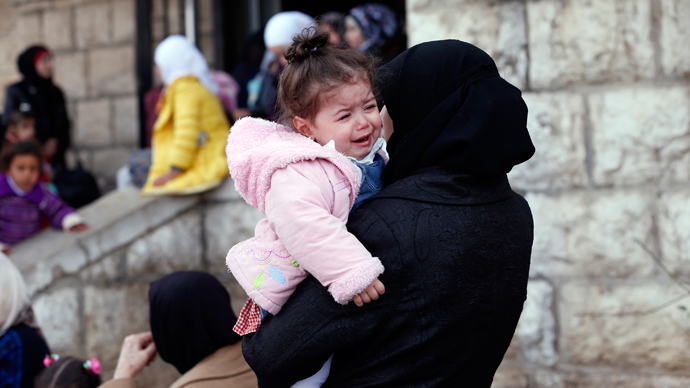 Palestinians who are fleeing Syria today will not find refuge in any other country. They came to Syria as refugees to start with, and now they are supposed to either stay in this country or go home. This is a dangerous situation, and we hope that the crisis will be resolved, or at least will wind down soon.
RT:But those refugees cannot go back to Palestine?
MA: That's right, they can't go home right now. Some did earlier, though. Between 1994 – the year the Palestinian Authority was established – and 2000, some 1.5 million Palestinians returned to Palestine.
RT:Is there anyone willing to go home at the moment?
MA: No. Now, that would be a difficult thing to do.
RT:Because of Israeli actions?
MA: Exactly, because of Israeli actions. The Israelis have sealed the border crossings, even though we had previously agreed that they should remain open. In doing that, Israel broke an earlier arrangement with us for no legitimate reason, like it has done so many times in the past. We have been unable to persuade them that they are making a mistake.
We have an agreement on prisoner exchange with the Israelis, but they won't hand over Palestinian prisoners to us. They collect taxes for us and retain a certain share of the money, but they perpetually fail to transfer the rest of it to us on time.
RT:Have you looked into the Russian medics' preliminary conclusion on the tests of Yasser Arafat's recently exhumed remains?
MA: I haven't yet. Besides the Russian experts, the tests are being administered by Swiss and French medics – that makes three groups of experts in total. The Swiss and the French delegations are still doing research and haven't submitted their verdicts yet. Our own medical, legal and political work groups are waiting for those expert assessments. As soon as we have a conclusion, we'll have it published.
RT:Thank you very much, Mr. President.
You can share this story on social media: