EU considering restrictions on Russian diplomats – FT
The Czech Republic has reportedly called on the bloc to prevent Moscow's envoys from traveling outside their host countries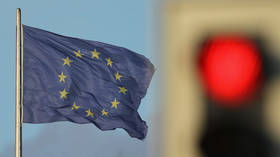 The European Union will consider a proposal to restrict Russian diplomats from traveling freely between Schengen zone states as part of discussions on the bloc's 12th round of sanctions on Moscow, the Financial Times reported on Tuesday.
The Czech Republic has complained that the borderless zone allows Russian 'agents' to enter countries and evade monitoring, and that this issue has been discussed among EU member states.
Prague has proposed that Moscow's diplomatic staff be given visas and residence permits only allowing travel within their host country, and not the rest of the Schengen area.
The EU should, according to Prague, only accept biometric passports as they are harder to forge or link to fake identities, the newspaper reports.
The country's concerns reportedly relate specifically to Russian officials who have been granted Austrian visas to work at UN agencies in Vienna, as they are able to visit the Czech Republic and other states.
"There are agents of the GRU [Russia's foreign military intelligence agency] and other services arriving in Czech territory. It is very complicated in Schengen to control this," an unnamed EU diplomat told the newspaper.
Debate on the matter is reportedly still in its early stages, and the legal complexities of such a move mean that the changes proposed by Prague are unlikely to form part of the sanctions package being discussed.
Last year, the chief of the UK's MI6 security service, Richard Moore, told The Guardian that hundreds of Russian embassy staff in European countries had been expelled on accusations of being "intelligence officers operating under diplomatic cover" since Russia's military operation in Ukraine began.
In 2021, the Czech Republic accused Moscow of being involved in the 2014 explosions at an ammunition depot in Vrbetice, in the east of the country, and expelled around 100 Russian diplomats. It later called for the "toughest" Ukraine-related sanctions on Russia.
This month, Czech media reported that the country's authorities had made it a crime to publicly support Moscow in its conflict with Kiev, amid a growing number of related cases. A few days ago, Prague reportedly seized some 70 properties belonging to the Russian government.
You can share this story on social media: