EU state gasses people at Russian border – media
Dozens of people sought to get into Finland as the Nordic nation was planning to close border crossings with Russia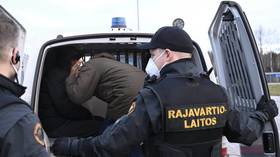 Finland's border guards had to resort to "gassing" people at the nation's border with Russia as the situation became heated ahead of the planned closure of crossing points, state broadcaster Yle reported on Friday. At least one person was "gassed in the face," according to the report.
"There was a group that did not obey the orders … of the border guards," Deputy Commander of North Karelia Border Guard Samuli Murtonen told Yle, adding that the group failed to properly declare their "intentions." In response, "the mildest possible means of force had to be used," he added.
According to a Yle reporter present at the scene, the border guards used gas against at least one person who tried to run past them. A group of around 30 arrived at the southeastern Finnish border crossing at Niirala at that time. The crossing was one of four that were to be closed at night on Saturday.
The affected person received the necessary first aid, Murtonen said. The official did not specify what type of gas was used but said it was the one commonly employed by the border guards. The head of the Niirala border crossing, Captain Eetu Multanen, told Yle that the situation has since calmed down and all new arrivals have been taken to the border inspection facility. It is currently being determined if those people were asylum seekers.
Earlier this week, the Finnish government announced its plans to close the southeastern Vaalimaa, Nuijamaa, Imatra and Niirala border crossing points at night on Saturdays. Another four crossing points located further north along the Nordic nation's 1,300-kilometer border with Russia are to remain open.
Helsinki cited the need to prevent a supposed repeat of the 2015 migrant crisis as a reason for the measure, citing an increase in the number of new arrivals at the border over the past months. It also recently tightened border measures by banning people crossing by bicycle from Russia.
On Thursday evening, Finland's Finance Minister and Deputy Prime Minister Riikka Purra said that Helsinki might take further action if the closure of the four border crossings was not enough. "We have a very low threshold to take the next step, which is to close the entire eastern border and concentrate asylum seekers away from the eastern border," the official told Yle.
Moscow criticized Finland's decision by saying that the Nordic nation was creating new "dividing lines" in Europe. The Russian Foreign Ministry's spokeswoman, Maria Zakharova, also said on Thursday that Moscow would come up with some "response measures." Finland's actions "do not resolve any issues but only lead to new ones, and problem-plagued at that," she added.
You can share this story on social media: