EU state preparing to shut border with Russia
Finnish Interior Minister Mari Rantanen claims Helsinki wants to prevent a repeat of the 2015 migrant crisis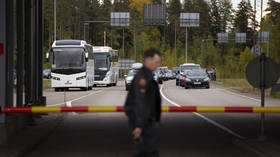 Finland could soon close border checkpoints with Russia for security reasons, Interior Minister Mari Rantanen announced on Tuesday, citing concerns about illegal immigrants from third countries. Helsinki recently tightened border measures by banning people crossing by bicycle from Russia.
Speaking at a press conference, Rantanen said her department would prepare a proposal for the government, noting that restrictions could come into force if necessary "to combat a serious threat to public order, national security, or public health."
She pointed out that any final decision also depends on Russia, and claimed that Moscow had altered its border policy to allow illegal migrants to stream towards Finland.
Rantanen refused to speculate on what was behind Russia's alleged behavior, but suggested that "maybe they are annoyed by something in Finland's activities." The minister added that Helsinki had been in contact with Moscow, but that talks had not produced the desired result.
Russia has yet to comment on the Finnish allegations.
According to Finnish authorities, around 60 people arrived at the country's eastern border on Monday and Tuesday, most of them originally from Iraq, Somalia, and Yemen.
Rantanen stressed that Finland's main concern is not the number of migrants, but rather the prevention of a large-scale crisis similar to the one that sent shockwaves through the EU in 2015.
Relations between Russia and Finland have deteriorated significantly since the start of the Ukraine conflict in February 2022, and Helsinki's subsequent decision to break with decades-long neutrality and join NATO.
Finland has also supported EU sanctions against Russia. In September, it followed the bloc's recommendations on import restrictions and banned most cars with Russian license plates from entering the country, while demanding that any such vehicles already on its territory leave by March 2024.
On Monday, Moscow's embassy in Helsinki issued a warning that Finland had barred people from crossing the border with Russia on bicycles for an "indefinite period."
Russian Foreign Ministry spokeswoman Maria Zakharova has denounced the EU's recent recommendations as "simply racism." Finnish Foreign Minister Elina Valtonen admitted in September that Western sanctions "hurt normal people," but claimed Helsinki had "no choice" but to impose the measures.
You can share this story on social media: