Ex-CIA boss gets Ukrainian cellphone firm directorship
Mike Pompeo is taking a seat on the board of the Veon subsidiary Kievstar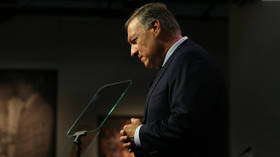 Telecom giant Veon announced on Wednesday that it has appointed ex-CIA director and former US Secretary of State Mike Pompeo to the board of directors of its Ukrainian subsidiary, Kievstar.
Pompeo is joining the Kiev-based operator as "an independent non-executive director," in his capacity as a partner of Impact Investments, described by Veon as "a newly established US-based strategic and financial advisory and investment firm."
Kievstar's new board chairman will be Kaan Terzioglu, the CEO of the Veon Group. The appointments reflect Veon's "commitment to Ukraine and to the recovery and reconstruction of the country," the company said.
Terzioglu said the company looks forward to the "knowledge and experience" that Pompeo will contribute to the phone company.
Pompeo has no telecommunications experience. He was a tank commander during his days in the US Army, ran Thayer Aerospace from 1996 to 2006, and served as a congressman from Kansas from 2011 to 2017, before running the CIA during the early days of Donald Trump's presidency. He took over the State Department in 2018.
After Joe Biden took over the White House, Pompeo became an outspoken advocate of Washington's military, economic, and political aid to Ukraine.
Veon started as a Russian-American joint venture called VimpelCom in the 1990s, before expanding internationally. It was renamed in 2017 and has a headquarters in Amsterdam, the Netherlands.
As part of the Kievstar announcement, Veon also confirmed it had fully exited the Russian market, completing the sale of its Russian subsidiary last month. The transnational company currently operates in Ukraine, Uzbekistan, Kazakhstan, Kyrgyzstan, Pakistan, and Bangladesh.
Veon has pledged to spend $600 million in Ukraine over the next three years and has launched the 'Invest in Ukraine NOW!' initiative, to invite other corporations to do the same.
You can share this story on social media: