PHOTOS of White House cocaine released to media
The drug at the president's residence was cut with baking soda, the Daily Mail has revealed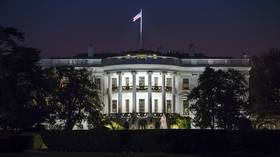 New details about the case of a bag of cocaine found at the White House last summer have been published by British tabloid the Daily Mail, which obtained documents and images through a Freedom of Information Act request.
The package, which was discovered in a phone locker of the West Wing on July 2, sparked a scandal after an investigation failed to identify the culprit. There was also a political aspect to it. Hunter Biden, the son of President Joe Biden, had detailed his past struggle with substance addiction in a memoir book. Both Bidens were away for a weekend at Camp David, Maryland when the drug was discovered.
The Daily Mail reported details of the Secret Service's reaction to the discovery, including its communication with the press and the involvement of other agencies.
We can exclusively reveal at Daily Mail the first images of the White House cubby where cocaine was found in July in a West Wing processing room. The case remains unsolved after the US Secret Service closed it after just two weeks due to 'lack of evidence.' pic.twitter.com/jPwaFHrSyx

— Katelyn Caralle (@Katelyn_Caralle) November 13, 2023
The Washington DC Fire Department's hazmat team tested the contents of the bag for opioids and amphetamines, obtaining a positive result, whereas the Secret Service's first tests had been inconclusive, the newspaper said. The FBI was later brought in and identified the powder as a mix of cocaine, sodium bicarbonate and caffeine – meaning that the drug was cut with baking soda.
The official report on the incident said "several hundred individuals" had access to the locker room in the days prior to the find, but forensic evidence on the bag was insufficient to determine who had handled it. With no surveillance footage of the locker room available, "the investigation will not be able to single out a person of interest," the Secret Service added, explaining its decision to close the case 11 days after the discovery.
The perceived security lapse at the White House was criticized by some opposition US lawmakers.
The Secret Service "failed to answer basic questions or provide any meaningful information related to security failures and cocaine being found at the White House," Representative James Comer said, reacting to probe having been wrapped up.
"Someone left cocaine in one of the most secure buildings on the planet, and the Secret Service quickly determined it was impossible to find the culprit," Senator Tom Cotton remarked. "No serious person believes this explanation."
Amid the investigation, White House press secretary Karine Jean-Pierre was asked whether she could rule out any link between the cocaine and Hunter Biden. In response, she criticized "irresponsible reporting" about the presidential family.
You can share this story on social media: