Israeli president claims 'Mein Kampf' found in 'children's room' in Gaza
The Nazi manifesto was discovered on the body of a Hamas fighter, Isaac Herzog has said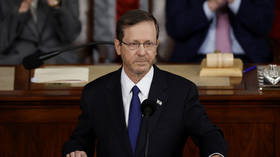 Israeli forces found a dog-eared Arabic translation of Adolf Hitler's 'Mein Kampf' on the body of a Hamas fighter holed up in a child's bedroom in northern Gaza, Israeli President Isaac Herzog told the BBC on Sunday.
Holding up a copy of the Nazi classic, Herzog claimed it had been "found just a few days ago in Northern Gaza in a children's living room that had been turned into a military operations base of Hamas." The home also contained an explosives laboratory, he alleged.
The Hamas fighter who supposedly owned the book had "even marked – he wrote notes… and learned again and again Adolf Hitler's ideology of hating the Jews, of killing the Jews, of burning the Jews, of slaughtering the Jews," Herzog claimed. His office later released a photo purporting to show a page from the book, featuring a post-it note and highlighted text.
Insisting Palestinian schools were teaching such material to children, Herzog blamed the education system in the occupied territories for the failure of the peace process.
Palestinian schools, he said, were "filled with hate, with prejudice, with curses, with all sorts of information which is totally distorted against what Jews are, what Israel is all about." Schools and mosques bristled with works like Mein Kampf and the literature of the Islamic State (IS, formerly ISIS/ISIL), as well as "bombs and grenades and missiles," Herzog declared.
Herzog rejected BBC reporter Laura Kuenssberg's suggestion that Israel bore a shared responsibility for the stagnation of peace negotiations, instead pinning the responsibility on the Palestinian Authority and "the fact that terror was becoming legitimate in some quarters of Palestinian society." Israel, he said, had exhausted all possible avenues of peaceful resolution, giving the Palestinians everything they wanted and getting only "terror" in return.
At the same time, the protesters thronging the streets of European and American cities purportedly demanding a ceasefire in Gaza were actually supporting Nazism, according to Herzog. "All those who demonstrated yesterday, I'm not saying all of them support Hitler but I'm saying that by omitting to understand what Hamas ideology is all about, they're basically supporting this ideology."
Over 11,000 Palestinian civilians have been killed since Israel declared war on Hamas following the October 7 invasion by the militant group that left 1,200 Israelis dead, according to Gaza officials.
The high volume of Palestinian civilian casualties and the unprecedented destruction of Gaza's hospitals and other critical infrastructure have led to calls for a ceasefire from the UN, echoed even by staunch allies of West Jerusalem such as France. Israel has argued Hamas uses hospitals as human shields, which if true would render them exempt from protection under international humanitarian law.
You can share this story on social media: