Iranian president makes first Saudi Arabia visit for Gaza summit
Ebrahim Raisi is making the trip after Tehran and Riyadh normalized ties earlier this year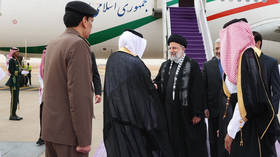 Iranian President Ebrahim Raisi has said "action" rather than "words" is needed to resolve the Israel-Palestine conflict, ahead of his arrival in Riyadh on Saturday for a summit featuring Arab and Islamic leaders. It is the first visit to Saudi Arabia by the Iranian president since a Chinese-brokered deal in March restored ties between the two countries.
Raisi, who was wearing a traditional Palestinian keffiyeh scarf upon his arrival in the Saudi capital, was met at the airport by officials ahead of a joint meeting of the Arab League and the Organization of Islamic Cooperation (OIC), which will discuss the hostilities in Gaza.
The two regional blocs were initially scheduled to convene separately, but it was announced by the Saudi Foreign Ministry on Friday that the meetings would be combined.
"Gaza is not an arena for words. It should be for action," Raisi said in Tehran before departing for Riyadh, Reuters reported. "Today the unity of Islamic countries is very important."
The joint summit also reflects the need for "unified efforts to come up with a collective Arab and Islamic position to address the dangerous and unprecedented developments witnessed in Gaza and the Palestinian territories and contain their repercussions," the Saudi press agency said on Friday.
Several Middle Eastern leaders have called for a ceasefire amid Israel's bombardment of the densely-populated Gaza enclave, in retaliation for the October 7 cross-border attack by Hamas militants. Israel said on Friday that roughly 1,200 people, mostly civilians, had been killed in the Hamas assault, revising down a prior estimate of 1,400.
Palestinian officials have reported that more than 11,000 people have so far died in Israeli strikes as part of Prime Minister Benjamin Netanyahu's pledge to "eliminate Hamas." About 40% of those killed are children, the territory's Health Ministry said.
In advance of the trip, Raisi was critical of Washington's staunch support for Israel in the conflict. "America says it doesn't want an expansion of the war and has sent messages to Iran and several countries [to this effect]," he said on Saturday, according to Reuters. "But these statements are not consistent with America's actions."
"The war machine in Gaza is in the hands of America, which is preventing a ceasefire in Gaza and expanding the war. The world must see the true face of America," Raisi added.
US President Joe Biden told reporters at the White House this week that there is currently "no possibility" of a ceasefire in Gaza, arguing that doing so would only provide Hamas with an opportunity to regroup and launch another attack on Israel.
Follow LIVE UPDATES for more information
You can share this story on social media: