Key ex-Obama aide tells Biden to think about stepping aside
David Axelrod has suggested that the US president should bow out of the 2024 race for the good of the country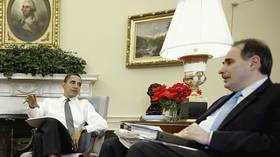 David Axelrod, the chief strategist for former US President Barack Obama's political campaigns, has called for President Joe Biden to consider dropping his 2024 re-election bid because of voter concerns about his age.
"Only Joe Biden can make this decision," Axelrod said on Sunday in a post on X (formerly known as Twitter). "If he continues to run, he will be the nominee of the Democratic Party. What he needs to decide is whether that is wise, whether it's in his best interest or the country's."
Axelrod made his comments in response to a New York Times/Siena College poll showing that former President Donald Trump is leading Biden in five of the six so-called "swing states" that are expected to decide the 2024 election. The poll showed that Trump is favored over Biden by four to 11 percentage points in five key states, while the Democrat incumbent leads his Republican rival by two points in the other key swing state, Wisconsin.
Moreover, 71% of respondents said Biden, 80, is too old to serve effectively, and 62% said he lacks the mental acuity needed for the job. Another poll released on Sunday, by CBS News, showed Trump leading Biden by a 51-48 margin nationwide. More respondents said they would be better off financially under Trump, by a 45-18 margin, and that the Republican would decrease the chances of getting the US into a war (43-23).
Axelrod blasted Trump as "a dangerous, unhinged demagogue whose brazen disdain for the rules, norms, laws and institutions of democracy should be disqualifying." Given the risk of Trump winning the presidency again, he added, "the stakes of miscalculation here are too dramatic to ignore."
Biden is already the oldest president in American history, and he would be 86 at the end of a second term. Axelrod said the latest polling would send "tremors of doubt" through the Democratic Party. Following up on his X post in a CNN interview on Monday, he said the party is running out of time to change horses in the 2024 race.
Only @JoeBiden can make this decision. If he continues to run, he will be the nominee of the Democratic Party. What he needs to decide is whether that is wise; whether it's in HIS best interest or the country's?

— David Axelrod (@davidaxelrod) November 5, 2023
"There's just a lot of concern about the age issue, and that is something I think he needs to ponder," Axelrod said of Biden. "Just do a check and say, 'Is this the right thing to do? Is this the best path?' I suspect that he will say yes, but time is fleeting here, and this is probably the last moment for him to do that check, and it's probably good if he does."
Other prominent Democrats have raised questions in recent days about Biden's re-election prospects. US Senator Richard Blumenthal, a Connecticut Democrat, told CNN on Sunday that he was concerned even before the New York Times poll was released. "These presidential races over the last couple of terms have been very tight," he said. "No one is going to have a runaway election here. It's going to take a lot of hard work, concentration, resources."
US Representative Pramila Jayapal, a Washington Democrat, told MSNBC host Jen Psaki on Sunday that Biden's support for Israel in its war with Hamas was further jeopardizing his chances to win re-election. "This is the first time, Jen, that I have felt like the 2024 election is in great trouble for the president and for our Democratic control, which is essential to moving forward, because these young people – Muslim Americans, Arab Americans, but also young people – see this conflict as a moral conflict and a moral crisis."
You can share this story on social media: