Biden ignores rabbi's call for Gaza ceasefire
The US president stopped short of supporting a complete cessation of hostilities and instead suggested a "humanitarian pause"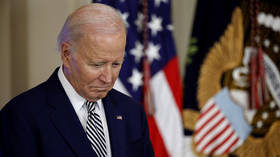 US President Joe Biden has refused to call for a ceasefire in the Israeli-Hamas conflict, instead proposing a temporary humanitarian pause.
Biden was speaking to an audience of some 200 people when a woman, who later identified herself as rabbi Jessica Rosenberg, shouted, "If you care about Jewish people, as a rabbi, I need you to call for a cease-fire right now."
The incident was captured on video and shared by the Jewish Voice for Peace account on X (formerly Twitter), claiming that Rosenberg was speaking on behalf of thousands of Jewish Americans who "refuse to allow a genocide to be carried out in [their] name"
The president responded by stating that he believes "we need a pause" and explained that it means to "give time to get the prisoners out," apparently referring to the foreign nationals currently stuck in Gaza.
Breaking: Rabbi Jessica Rosenberg is interrupting President Biden demanding a CEASEFIRE NOW. She is speaking on behalf of thousands of American Jews who say Not In Our Name! We refuse to allow a genocide be carried out in our names.Ceasefire Now to save lives! pic.twitter.com/m5fR8OdoOk

— Jewish Voice for Peace (@jvplive) November 1, 2023
Rabbi Rosenberg was then escorted off the premises, after which the president said he understood her emotions and acknowledged that "this is incredibly complicated" for Israelis and the Muslim world.
"I supported a two-state solution; I have from the very beginning," he said. He added, however, that "the fact of the matter is that Hamas is a terrorist organization. A flat-out terrorist organization."
In an earlier speech in Minnesota on Wednesday, Biden reiterated Washington's support for Israel's right to "defend itself" following the October 7 Hamas attack, which took the lives of over 1,400 Israelis.
Previously, the president repeatedly insisted that the US would stand by Israel "no matter what." At the same time, the US State Department has continuously rejected calls for a ceasefire, arguing that it would only benefit Hamas.
Washington's unconditional support for the Jewish State has, in turn, sparked growing criticism and accusations of disregarding the atrocities being committed by the Israel Defense Forces (IDF) against the civilian population of Gaza.
According to the latest estimates by local health officials, as many as 9,000 people have so far been killed in IDF strikes on Gaza over the past three weeks.
Meanwhile, Russia's permanent representative to the UN, Vasily Nebenzya, has dismissed Washington's argument about Israel's right to self-defense, explaining that "as an occupying power, it does not have such a right" as per the advisory ruling of the International Court of Justice in 2004. He stressed, however, that Russia nevertheless recognizes Israel's right to ensure its security.
You can share this story on social media: