US should commit 100 nuclear weapons to defend South Korea – lobbyists
The North's own atomic arsenal could number 300 by the end of the decade, two pressure groups have claimed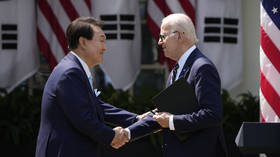 The US and South Korea should collaborate to modernize about 100 tactical nuclear weapons to bolster Seoul's defenses against an alleged growing threat from Pyongyang, according to a recommendation from two defense industry-linked think tanks on Monday.
North Korea has "already established a nuclear weapon force that could pose an existential threat" to South Korea's security and is "on the verge" of establishing a similar threat to the US, the Asan Institute for Policy Studies claimed in a report titled 'Options for Strengthening ROK (Republic of Korea) Nuclear Assurance'. The study was conducted in conjunction with American military industry lobby group, the RAND Corporation.
Approximately 100 US nuclear weapons should be modernized at South Korea's expense, the study recommended, adding that they should be housed on US soil but be rapidly deployable to support Seoul's defensive requirements.
"[North Korean leader] Kim Jong-un appears to be planning a force of at least 300 to 500 nuclear weapons," the authors of the study claimed, suggesting that Pyongyang could break the 300-weapon threshold by around 2030.
The report stated that North Korea's current nuclear capabilities include weapons that could kill about 2 million people if launched towards its southern neighbor. Pyongyang has ambitions of using its nuclear arsenal in order to test Washington's resolve towards its alliance with Seoul, it added, also alleging that the North hopes to "dominate South Korea without having to invade it."
It further recommended a process to pressure North Korea to relent in its nuclear weapons program by storing some US weapons in South Korea "for both symbolic and operational purposes," and having "all or part of the nuclear weapons on a US ballistic missile submarine operating in the Pacific to target North Korea."
In April, US President Joe Biden and his South Korean counterpart, Yoon Suk Yeol, signed the Washington Declaration, in which the US agreed to extend its military deterrence partnership with Seoul amid an increase in North Korean ballistic missile testing.
Pyongyang has conducted numerous missile tests this year, including an intercontinental ballistic missile (ICBM) that traveled for almost 1,000km (620 miles) before splashing down in waters west of Japan. This led to increased US and South Korean naval drills in the area.
Last month, North Korea also held a simulation of a tactical nuclear strike that included two long-range missiles. The exercise was intended to "warn enemies," North Korea's KCNA news agency said.
The Asan Institute of Policy Studies describes itself as a "non-partisan think tank" dedicated to "undertaking policy-relevant research to foster domestic, regional and international environments" regarding peace and stability on the Korean Peninsula.
You can share this story on social media: