US nuclear bombers will be first targets – North Korea
Pyongyang says it will not hesitate to strike American warplanes stationed on the peninsula if provoked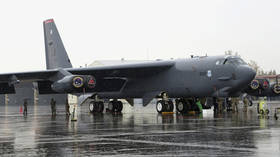 North Korea has condemned the recent deployment of American nuclear-capable bombers in the South, warning that the aircraft will become its "first targets for destruction" in the event of an actual conflict.
In comments published by the state-run Korean Central News Agency (KCNA) on Friday, Pyongyang slammed the stationing of a B-52 Stratofortress strategic bomber in South Korea earlier this week, declaring that Washington's "military provocations are evolving to a more dangerous stage."
"This is an intentional maneuver by the United States… to provoke a nuclear war," the statement said regarding the deployment and subsequent joint drills with South Korean forces. "The United States will not be unaware of the fact that the Korean Peninsula is legally in a state of war and that strategic assets contributing to the enemy's territory will be the first targets for destruction."
The Pentagon staged a highly visible demonstration of the B-52 after the aircraft arrived in Seoul on Tuesday, showing it off through flyovers alongside several other American warplanes, including F-22 and F-16 fighter jets. The US Air Force's Pacific division declared that move had demonstrated Washington's "commitment to the stability and security of the Indo-Pacific region" and also bolstered military ties with South Korea.
Earlier this year, President Joe Biden said the US military would enhance the "regular visibility" of strategic military assets on the peninsula, hoping the move would improve "deterrence" against the DPRK. Soon after, the Pentagon dispatched a nuclear ballistic missile submarine to South Korea for the first time since 1981, also drawing harsh condemnation from the North.
Pyongyang noted that it codified a new nuclear weapons doctrine into law last September, declaring that its acquisition of the bomb was "irreversible," while authorizing the first-use of nuclear weapons if an enemy attack is "judged to be imminent."
"The time when the United States held a 'monopoly' over the right to preemptive strike has already come to an end," the statement continued, adding that this week's B-52 deployment was "a serious military move of a nuclear preemptive strike aimed at the physical elimination of our country."
North Korea has stepped up missile tests in recent years, insisting that they are purely defensive measures. The US, Japan, and South Korea maintain that these actions are illegal under international law and raise tensions in the region.
You can share this story on social media: