South Korea wants to expand spying on North after Hamas attack
South Korea's defense minister says he will urge the suspension of a 2018 military treaty with the nuclear-armed neighbor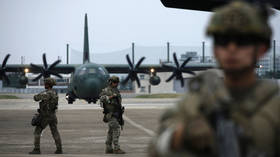 South Korean Defense Minister Shin Won-sik wants to terminate the country's military agreement with North Korea due to a "threat" of a possible attack following the sudden outbreak of war between Israel and Palestine, he told reporters in Seoul on Tuesday.
"To counter [the threat of attack from the DPRK], we need to be observing [North Korean military movements] with our surveillance assets to gain prior knowledge of whether they are preparing provocations or not," Shin Won-sik said, as cited by the Associated Press.
The minister said he will insist on suspending the 2018 inter-Korean military agreement with Pyongyang to resume front-line surveillance of its neighbor.
The official also argued that Israel would suffer less damage if it used planes and drones for reconnaissance. On October 7, Israeli territory was subjected to massive rocket fire by the Palestinian Hamas movement, which invaded the border areas in the country's south. West Jerusalem officially declared war the next day, setting the stage for a significant military operation in Gaza called 'Iron Swords.' According to The New York Times, the Israeli military and intelligence apparatus was caught off guard and unaware of the impending Hamas attack.
Shin Won-sik's statement was followed by a parliamentary audit of the ministry responsible for inter-Korean affairs on Wednesday. According to Korean Unification Minister Kim Yong Ho, the security situation must be fully considered before suspending the treaty. He also said that this issue should be thoroughly discussed at the National Security Council meeting, Yonhap news agency reported.
The Comprehensive Military Agreement, signed by the two Koreas on September 19, 2018, outlined steps to reduce military tensions on the Korean Peninsula and create conditions for further dialogue and bilateral cooperation. In particular, buffer zones were created along land and sea borders and no-fly zones over the borderline to prevent collisions.
However, ties between the countries worsened following the collapse of talks between Washington and Pyongyang over North Korea's nuclear weapons program in 2019. The United States demanded more decisive action from Pyongyang to renounce nuclear weapons. At the same time, North Korea, in turn, noted that Washington was doing nothing in response to its voluntary steps toward denuclearization.
In recent months, American forces have engaged in a flurry of joint military exercises with South Korea and Japan. North Korea responded with dozens of missile tests and slammed the US-led war games as a rehearsal for a full-scale invasion.
There had been no major skirmishes between the Koreas since the pact was signed until last November, when North Korea fired at least 23 missiles into the sea, including one that landed less than 60km off South Korea's coast.
You can share this story on social media: