White House proposes to cut Ukraine financial support
Kiev would get $275 million a month less under the US president's request to Congress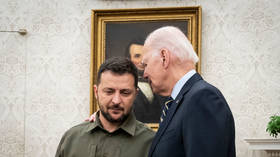 The $105 billion funding request US President Joe Biden sent to Congress would see the monthly subsidy to the Ukrainian government slashed to $825 million, according to documents made public on Friday.
As Biden outlined in his Thursday evening speech, the aid to Ukraine is getting bundled with funding for Israel, Taiwan, and the US border. The bundling is intended to secure bipartisan support in Congress, according to the US media.
Ukraine aid would account for $61.4 billion and Israel would get $10.6 billion, under the 69-page proposal the White House Office of Management and Budget (OMB) sent to the acting Speaker of the House, Patrick McHenry.
One of the revelations in the document is that the US has been sending $1.1 billion a month to Ukraine as part of the Economic Support Fund program, enabling Kiev to plug holes in its budget and pay government employees.
"This request provides a glidepath from $1.1 billion per month in direct budget support to $825 million per month," for a total of $11.775 billion, the OMB request states. These numbers are based on the latest International Monetary Fund (IMF) estimates of Ukraine's 2024 budget and US "assumptions of robust burden sharing by the EU, Japan, and other donors."
Propping up Kiev is necessary because Russia "is explicitly seeking to ensure that Ukraine's economy collapses in order to secure Ukraine's surrender," according to the OBM letter. It adds that the money will be provided "through the World Bank as reimbursements for authorized and verified expenditures to the Government of Ukraine in line with the current conditionality framework" developed by the US.
Among the other notable requests in the OMB proposal were changing the drawdown limit for military aid from $100 million to $7 billion and doubling the loan guarantees for Ukraine from $4 billion to $8 billion.
Congressional action is needed "to ensure that we can continue to meet Ukraine's battlefield needs and protect its people," because the funding previously approved by Congress "has nearly run out," Biden's National Security Advisor Jake Sullivan told reporters in a conference call on Friday.
The House of Representatives has been without a speaker since October 3, when Kevin McCarthy was ousted in a rebellion by several Republicans, reportedly over striking a secret deal on Ukraine funding with the White House. His replacement has yet to be elected.
You can share this story on social media: