How the EU discredited itself in the Israel-Palestine conflict
The European Union's early reaction to the war raging in the Middle East only served US interests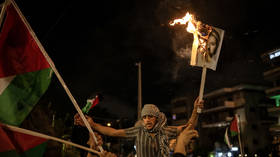 European Commission President Ursula von der Leyen's showboating in support of Israel in the current Middle East conflict has reportedly provoked a backlash from EU lawmakers and diplomats.
When the Israel-Gaza war broke out just over a week ago, von der Leyen made the decision to offer unconditional support to West Jerusalem rather than urge for calm or mediation, having Israel's flag projected onto the European Commission headquarters and paying a visit to Israel herself. She clearly did so out of an inclination to appear in line with the US. But her actions have aged poorly as reports of civilian deaths and humanitarian disaster in the besieged Gaza Strip continue to mount.
Anyone familiar with von der Leyen knows that she is an unapologetic neoconservative and transatlanticist who is single-handedly undermining the autonomy, respect, and foreign policy stature of the EU by actively working to make the bloc subordinate to the US in multiple areas, all while attempting to showcase herself as a true regional leader. If the EU sees itself in a fundamental competition with China and Russia, there could not be a worse advert to the rest of the world than her leadership, and her Israel blunders may be her most damaging decisions yet.
Von der Leyen's foreign policy legacy involves dragging the EU into several confrontations it could have done without. This week, she is heading to Washington DC to try to forge a deal on steel and aluminum trade targeted at China, but that will ultimately resort in throwing the EU market under the bus, again. Other acts have included backing the American position on Ukraine and striving for full escalation of the war there, promoting energy decoupling with Russia, as well as inventing the term "de-risking" with China and seeking to undermine the bloc's lucrative relationship with Beijing. Throughout this, she has been repeatedly eager to pull large sums of money out of thin air and propose fantasy projects which amount to little more than posturing, and which her office alone is not even able to authorize.
For example, that includes offering Belarus billions if it goes ahead with a US-backed regime change, or inventing numerous "infrastructure" schemes to compete with China, such as the Global Gateway, among other things. She has thus repeatedly used the stature of her office to follow American objectives and try to shape the continent without establishing any kind of due consensus. Almost immediately after the war in Gaza broke out, the European Commission announced all EU aid to Palestine would be frozen. Regardless of what you think of Hamas, with hindsight that decision now appears spiteful, reactionary and inhumane, which tells you how fast the Commission was to jump to the American position of unconditional support for Israel.
But this time there is a widespread feeling it has gone too far. Rather than allowing Europe to have staked out a moderate position on the Gaza conflict, even if it would not be too sympathetic to Palestine, the decision was essentially outsourced to the US, discrediting the EU and only serving to contribute to the growing backlash starting to emerge among Muslim communities in response to the conflict. For countries such as France, this is disastrous. This hurts the EU's image across the Islamic world and the Global South by seemingly siding with the oppressors.
Soon enough, a series of embarrassing U-turns followed, including the reinstatement of aid, combined with tweets in Arabic, but the damage had already been done, because Israel has long been given the green light to pursue unparalleled destruction in Gaza, at seemingly whatever the cost. In doing so, von der Leyen has in fact undermined, in yet another way, the bloc's ability to present itself as a serious and comprehensive political actor. She seems to have no love for the idea that the EU should have strategic autonomy and be capable of calibrating its own interests and place in the world, and would prefer that it instead be a simple parrot of the US.
Of course, if she took into greater consideration the interests and positions of member states it would be less of a problem. But she does not and instead essentially serves as a completely disruptive force, in practice undermining European diplomacy and preventing the EU from building relations with a wide range of states. In the end, this favors only the US.
The statements, views and opinions expressed in this column are solely those of the author and do not necessarily represent those of RT.
You can share this story on social media: