The US can 'certainly' fund two wars – but should it?
Treasury Secretary Janet Yellen makes it clear that there's always money for war but not for the people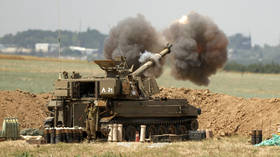 US Treasury Secretary Janet Yellen made headlines this week when she said that America can afford to help Israel and Ukraine in their respective war efforts. "America can certainly afford to stand with Israel and to support Israel's military needs and we also can and must support Ukraine in its struggle against Russia," Yellen told Britain's Sky News.
"Inflation has been high, and it's been a concern to households, it's come down considerably. At the same time, we have about the strongest labor market we've seen in 50 years, with 3.8% unemployment. And at the same time, America, the Biden administration, has passed legislation that is strengthening our economy in years to come for the medium term," she emphasized.
Aside from the obvious fact that this is not true on its face, given that the House of Representatives has no speaker and thus cannot pass any appropriations for either country at the moment, one has to question the basic wisdom of this notion. Even if America could theoretically afford to support both war efforts, is it really a cause worthy of taxpayers' hard-earned dollars?
For example, in my column last week for RT, I referenced the fact that $24 billion in Covid-19-related funding for childcare centers around the country had expired the week prior (now two weeks ago), which, according to an estimate last month by the Century Foundation, will affect 3.2 million children, slash $10.6 billion in revenue from lost worker productivity as parents reduce hours or leave jobs in the scramble to find new care, and could result in the closure of as many as 70,000 care centers.
But we can also think a little bigger. It is estimated that so far, the US has pledged around $100 billion to Ukraine alone. Now the Biden White House has presented a draft appropriation package to Congress that would see another $100 billion sent to Israel, Ukraine, and the border, with the brunt of it designated for the former two. If America can afford hundreds of billions in bombs for its proxies, what else it might be able to afford?
Well, for just an estimated $173 billion more, the US would be able to follow through on President Biden's plan to cancel $10,000 in student debt for federal borrowers. While virtually every study on the subject is in unanimous agreement that a single-payer Medicare for All health care system in the US would not only pay for itself but, in fact, save Americans several trillion over a decade (according to even the right-wing Mercatus Center), surely $200 billion could help increase coverage in the country. Finally, it is estimated that the first year of a tuition-free college model in America would cost about $58 billion – just around a quarter of current and proposed spending on Ukraine and Israel.
The US, though perhaps poised to fare better than Europe if only for its technological edge, military prowess, and energy independence, is in a sad state. People's lives today are noticeably worse off than their parents' generations; home ownership is unthinkably expensive, retirement planning is a pipe dream, and the ability to earn more than a subsistence living is beyond the reach of most. Even the aforementioned advantages that the US has relative to peers in the Global North are being beaten back by competitors like China – entirely because of Washington's unwillingness to invest in anything other than the infinitely corrupt military-industrial complex.
To top it off, the strategy of stoking these two proxies at once runs the American Empire into a serious simultaneity problem, wherein it has to contend with the prospects of two civilizational wars, and potentially a third over Taiwan that it itself is edging closer to, without the serious potential to win any of them. There is no conceivable military strategy – evident by the failed proxy conflict in Ukraine alone, never mind Israel – in which Washington can contend with Russia and the entire Muslim world at once, with China potentially as an added bonus.
So, we return to the question, even if America could theoretically afford to support both war efforts, is it really a cause worthy of taxpayers' hard-earned dollars? Of course, it isn't. The US must, for the sake of its people and humanity, focus on spending this cash at home while calling for diplomacy. This is even more apparent given the fact that the two existing conflicts, and the potential third, all involve nuclear states. It's time to seriously reflect on our national priorities if we hope to survive as a nation, or even as a species.
The statements, views and opinions expressed in this column are solely those of the author and do not necessarily represent those of RT.
You can share this story on social media: