Hamas blames US for deadly hospital strike
Washington has given "unlimited cover" to Israel since its air campaign against Gaza began, militant leader Ismail Haniyeh said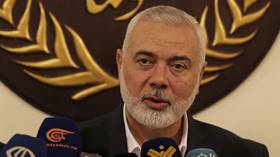 By enabling Israel's "brutality," the US is ultimately responsible for the bombing of the Al-Ahli Hospital in Gaza, Hamas leader Ismail Haniyeh has declared. Haniyeh said that the bombing would "constitute a turning point" in his group's struggle against the Jewish state.
"The Americans who gave unlimited cover bear responsibility for the Baptist [Hospital] massacre. Whoever supports Israel is responsible for its violations in Gaza," he said in a televised statement on Tuesday night.
"The hospital massacre confirms the enemy's brutality and the extent of his feeling of defeat," Haniyeh continued, adding that "this massacre will constitute a turning point and a flood added to the flood of Al-Aqsa," referring to the name of Hamas' ongoing operation against Israel.
The Christian-run Al-Ahli Hospital, also known as the Baptist Hospital, was destroyed in an apparent missile strike on Tuesday. Palestinian officials accused Israel of targeting the facility, while Israel blamed the blast on a wayward rocket fired by the Islamic Jihad militant group, despite a government spokesman seemingly taking responsibility immediately after the strike.
Some 471 Palestinians were killed and more than 314 wounded in the strike, the Palestinian Health Ministry stated on Wednesday, calling the attack "an Israeli massacre."
At the time of the strike, Israeli warplanes had been conducting continuous airstrikes on Gaza for over a week. Throughout this time, American officials have expressed solidarity with Israel and pledged increased military aid to the Jewish state. Speaking to Israeli Prime Minister Benjamin Netanyahu at a press conference in Tel Aviv on Wednesday, US President Joe Biden claimed that the attack "was done by the other team, and not by you."
Biden explained that he visited Israel "for a simple reason – I want the people of Israel and the people of the world to know where the US stands."
The hospital's destruction sparked protests and riots across the Muslim world and led Jordan to cancel a planned summit between Biden and Palestinian Authority President Mahmoud Abbas.
Amid condemnation from Arab governments, former Russian President Dmitry Medvedev declared on Wednesday that the "final responsibility" for the "war crime" at the hospital "lies with those who cynically make money from wars… With those who thoughtlessly distribute colossal amounts of money for weapons to load its military-industrial complex with work and falsely proclaim their global mission to protect democratic values. The United States of America."
You can share this story on social media: