Israel tells citizens to immediately leave Türkiye
The warning came during a large protest outside the country's consulate in Istanbul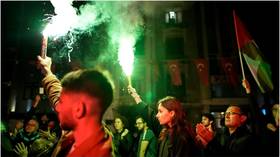 Israel advised its citizens to leave Türkiye immediately on Tuesday, citing the heightened threat of terrorist attacks amid widespread outrage over the deadly missile strike on a hospital in Gaza.
The country's National Security Council (NSC) raised the alert for travel to Türkiye to the highest level in its four-tier warning system. "Given recent events, there's concern over the heightened motivation of terrorist actors and lone assailants to target Israelis in various countries worldwide," the NSC said in a statement cited by Israeli media.
The NSC also raised the risk level for Morocco to Level 2 "in light of the evolving threat landscape," and reiterated the call to avoid "non-essential" trips to Arab countries and the states bordering Iran, "specifically highlighting Jordan, Egypt, the United Arab Emirates and Azerbaijan."
The notice was issued as thousands gathered to protest outside the Israeli consulate in Istanbul, following the news that a missile strike on the Ahli Hospital in Gaza had killed around 500 Palestinians. Videos posted to social media show that some protesters launched fireworks at the consulate building, climbed on its fence, and attempted to set the building on fire.
Although Palestinian officials quickly blamed Israel for the strike, the IDF and Prime Minister Benjamin Netanyahu claimed that the hospital was destroyed by a rocket fired by one of the Palestinian militant groups.
The strike, nevertheless, triggered widespread condemnation across the Arab world and beyond. Amman responded to the tragedy by abruptly canceling a summit involving the leaders of the US, Jordan, Egypt, and the Palestinian Authority, which was planned for Wednesday.
West Jerusalem has been conducting retaliatory strikes on Gaza since Hamas and allied militant groups carried out a surprise attack on Israel on October 7 in which over 1,000 people, including hundreds of civilians, died.
You can share this story on social media: