Sumo wrestlers 'too heavy' for flight
Japan Airlines concluded that two planes couldn't safely carry the excessively large athletes in addition to the required fuel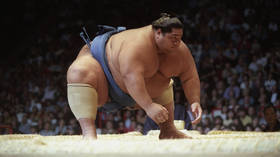 Japan Airlines was forced to lay on a short-notice extra flight last week after determining that two of its planes were at risk of exceeding weight limits due to the large numbers of sumo wrestlers among its passengers scheduled to travel.
The airline said that it took the "extremely unusual" measure of transferring the super-sized athletes to a new flight after it concluded that the aircraft would be unable to safely carry the required amount of fuel in addition to the unexpectedly large passengers.
"It is extremely unusual for us to operate special flights due to the weight restrictions on this aircraft," a spokesperson for Japan Airlines told the Minami-Nippon Shimbun news outlet.
The sumo wrestlers were scheduled to depart on flights from Haneda Airport in Tokyo and Itami Airport in Osaka, newspaper Yomiuri Shimbun reported, where they were due to compete at a sports festival on Amami Oshima, an island in the far south of Japan.
The newspaper added that Japan Airlines first became concerned about potential fuel problems late last Thursday when they discovered that the flights were to contain large numbers of sumo rikishi (competitors). The Amami airport was considered too small to be able to safely land a larger aircraft, forcing the airline to accommodate 27 sumo wrestlers with the specially-arranged new flight.
The average weight of the sumo passengers was estimated to be 120 kilograms (over 250lbs), according to the Yomiuri – far larger than the average passenger weight of 70 kilograms. "I think the middle seat was toughest," said an unnamed high school-aged sumo athlete of the return flight back to Haneda on Sunday to local media outlet TV Asahi.
A representative for the athletes added: "I was joking about the possible weight concerns, but it actually turned into a problem. We had great support, although we are a little tired."
Sumo wrestling, one of Japan's most traditional martial arts, does not have weight restrictions, though many of its most dominant competitors are very large. Orora, a Russian-born rikishi who retired from the sport in 2018, is thought to be the largest athlete in the sport's history, weighing in excess of 290 kilograms at the peak of his fame.
You can share this story on social media: