Hezbollah attacked Israel to avenge murdered journalist – media
A Reuters reporter was killed on Lebanese territory on Friday by suspected Israeli shelling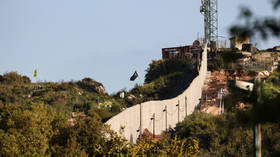 An attack on Sunday on the northern Israeli town of Shtula that killed one person was a response to the death days earlier of a Reuters journalist and Lebanese national, the militant group Hezbollah said, as cross-border tensions ramp up amid Israel's war with Hamas.
Hezbollah said in a statement shortly after Sunday's rocket attack on the farming community along Lebanon's border with Israel that it had "targeted a Zionist enemy army center in the Shtula area with guided missiles." One person died and another three were injured, according to reports.
The Tehran-backed group added that the strikes came in response to "Israeli aggressions" in the area, including the killing of Lebanese national and Reuters journalist Issam Abdallah, in a missile strike close to the border on Friday. The Israel Defense Forces (IDF) has launched retaliatory strikes of its own on Lebanon.
Israeli authorities have said that they are probing the circumstances of the journalist's death. Reuters has called on the state's authorities to conduct a "swift and transparent investigation," and said that it is "critically important" for journalists to be able to report from war zones "freely and safely."
Israel on Sunday declared its northern border with Lebanon to be a closed military zone, effectively creating a four-kilometer (2.5 mile) buffer area, and warned civilians to not enter or risk being shot at.
The buffer zone declared by Israel to its north can be viewed as part of the Jewish state's efforts to prepare for the possibility of Hezbollah opening a second front amid the IDF's ongoing siege of Gaza, more than a week after Hamas militants rampaged through parts of Israel, in a surprise attack during which about 1,400 people died.
Reports have indicated that more than 2,600 Palestinians have been killed in Israel's subsequent bombardment of the Gaza enclave over the past several days.
Hezbollah, a prominent supporter of Hamas, has so far indicated that it will not enter the conflict on behalf of Palestinian militants, and has said that it will only strike Israel when its territory or military are fired upon.
However, tit-for-tat exchanges between Lebanon and Israel have prompted fears that the Israel-Hamas war could spiral into a wider regional conflict. Numerous reports have indicated that Western diplomats have sought to prevent Hezbollah from attempting to expand its influence on the conflict.
Washington's nuclear-powered aircraft carrier USS Gerald R. Ford has been stationed in the eastern Mediterranean, in a move being interpreted as US efforts to prevent hostilities from escalating further.
You can share this story on social media: