Gaza could turn into 'graveyard' for Israeli troops – Tehran
Iran has again cautioned Israel against launching a ground offensive into the Palestinian enclave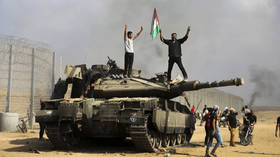 Iranian Foreign Minister Hossein Amir-Abdollahian has warned that if diplomatic efforts to stop Israeli airstrikes and prevent a ground offensive on Gaza are unsuccessful, there is a risk of the conflict escalating uncontrollably, with multiple regional players joining the fight.
"If the measures aimed at immediately stopping the Israeli attacks that are killing children in the Gaza Strip end in a deadlock, it is highly probable that many other fronts will be opened," Hossein Amir-Abdollahian told Al Jazeera on Sunday, reiterating a warning Iran had voiced repeatedly over the past week.
"If the Zionist entity [Israel] decides to enter Gaza, the resistance leaders will turn it into a graveyard of the occupation soldiers," he added, referring to Hamas.
On his diplomatic tour of the region, the Iranian minister met with a political leader of Hamas, Ismail Hanieyh, in Qatar, where he rallied other Islamic countries to support Palestine, and assured that Iran will continue its efforts to stop the "war crimes committed by the Zionists."
"The Islamic Republic of Iran will never back down on its principles and values in support of the Palestinian nation," he stressed.
In an effort to resolve the Gaza crisis, Amir-Abdollahian also discussed "the sensitive situation in the region" with Chinese Foreign Minister Wang Yi. He asked China to use its voice in the United Nations Security Council to stop the deaths and suffering of Gaza residents, emphasizing the need for a humanitarian corridor.
Iranian President Ebrahim Raisi initiated phone calls with multiple Muslim leaders on Sunday, raising the alarm about the situation in Gaza and calling for "decisive and immediate" action by the Arab League and other international bodies to stop the Israeli "killing machine."
Iran's Supreme Leader Ayatollah Ali Khameni has also addressed Muslim countries, urging them to come to the aid of Palestinians. "With God's grace, this movement that has started in Palestine will advance and result in a complete victory for the Palestinians," he said in a post on X (formerly Twitter) on Saturday.
The United States has dispatched a second aircraft carrier group to the Eastern Mediterranean, seeking to put pressure on Iran, Hezbollah in Lebanon, and other pro-Palestinian forces to stay out of the Israel-Gaza war.
Despite US media speculating about Iran's possible involvement in the deadly raid on Israel carried out by Hamas militants, President Joe Biden has acknowledged that "at this point" there is "no clear evidence" that Tehran helped Hamas plan the attack.
You can share this story on social media: