IDF strikes hit Gaza evacuation convoys – Hamas
The UN has called Israel's forced relocation order impossible and disastrous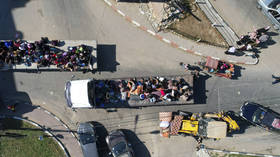 Dozens of people, mostly women and children, have been injured and killed in Israeli airstrikes on evacuation convoys fleeing Gaza City, according to Hamas officials. The IDF has yet to respond to the accusations, after ordering more than 1 million people to leave the northern part of the enclave "to save their lives."
The UN humanitarian body, OCHA, said several "vehicles of those evacuating the north were hit, killing more than 40 people and injuring 150 others," citing data from health officials in the Hamas-governed Palestinian enclave.
"These incidents prompted many people to abandon their evacuation efforts and return home," the UN agency added, as "heavy Israeli bombardments, from the air, sea and land, have continued almost uninterrupted."
Hamas' media office claimed on Friday that airstrikes hit civilian cars in three separate locations, allegedly killing 70 people. The Palestinian Health Ministry said that Al-Shifa Medical Complex was treating "dozens of victims" injured "as a result of the Israeli occupation forces targeting citizens who were forced to leave their homes."
The Israel Defense Forces (IDF) has yet to comment on the allegations, and it is unclear whether militants were among the passengers of the convoys.
Tens of thousands of Palestinians have fled south after Israel issued an order on Thursday night, initially giving Gaza residents 24 hours to evacuate from the north to "save their lives" ahead of an expected ground offensive, according to the UN. Prior to the evacuation order, more than 400,000 Palestinians had already been internally displaced.
The IDF called the evacuation order a "humanitarian step," claiming that the residents would be able to return to Gaza City after Hamas militants were eradicated. The military did not mention any specific deadline, with a spokesperson acknowledging the evacuation would take "some time."
Israel has faced widespread criticism from human rights organizations for the forced relocation order, with UN Secretary-General Antonio Guterres urging West Jerusalem to reconsider it, insisting that "even wars have rules" and telling all sides to respect international humanitarian norms.
"Moving more than 1 million people across a densely populated warzone to a place with no food, water, or accommodation when the entire territory is under siege, is extremely dangerous and, in some cases, simply not possible," Guterres said on X (formerly Twitter) early Saturday morning.
The World Health Organization (WHO) also appealed to Israel to "immediately rescind orders for the evacuation of over 1 million people living north of Wadi Gaza," saying that a "mass evacuation would be disastrous – for patients, health workers and other civilians left behind or caught in the mass movement."
"With ongoing airstrikes and closed borders, civilians have no safe place to go," the WHO said on Friday.
You can share this story on social media: