France cracks down on pro-Palestine protesters (VIDEOS)
Paris has banned rallies nationwide, claiming they were a threat to public order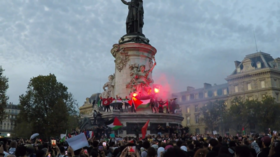 French police used water cannons and tear gas to disperse thousands of protesters who thronged the streets of Paris Thursday in support of the Palestinian people despite a ban on pro-Palestinian rallies initiated earlier in the day.
Seemingly undeterred by the prohibition, crowds of demonstrators waved Palestinian flags and chanted slogans before heavily armed riot police arrived on the scene.
Video posted to social media shows massive water cannons drenching reluctantly-dispersing crowds. Another clip shows protesters – including elderly and women – being crushed into a stone railing as they are pursued by riot cops and tear gas clouds, shrieking as police push them with plastic shields.
After canceling two separate pro-Palestinian demonstrations in Paris scheduled for Thursday, Interior Minister Gerald Darmanin prohibited all pro-Palestine protests, arguing they were "likely to generate disturbances to public order" in a letter to prefects nationwide. Any foreign nationals violating the protest ban will be "systematically" deported, he said.
The minister claimed France had seen a steep rise in antisemitic incidents – over 100 reported since Hamas' surprise attack on Israel on Saturday. While most of these were "tags and swastikas," Darmanin told France Inter radio, some were stopped with knives attempting to enter a school or synagogue. Some 24 people had been arrested in connection with the incidents as of Thursday.
The government increased protection of Jewish sites, sending 10,000 police officers to 500 locations, Darmanin said, acknowledging there had been no specific terrorist threats against France's sizable Jewish community.
Thirteen French citizens are known to be among the dead from Saturday's attack, with 17 more still unaccounted for, including four children, President Emmanuel Macron confirmed on Thursday. About 150 hostages in total are believed to be still held by Hamas in Gaza.
Prime Minister Benjamin Netanyahu has vowed to "crush" Hamas, warning civilians living in Gaza to flee and avoid "terrorist" sites. Palestinians in Gaza have been deliberately cut off from food, water and electricity as the Israel Defense Forces have dropped more than 6,000 munitions on Gaza since Saturday, driving over 20% of the population out of their homes and leveling entire neighborhoods.
You can share this story on social media: