US issues warning to Hezbollah
Washington has warned Hezbollah and other parties against getting mixed up in the new Israel-Palestine flare-up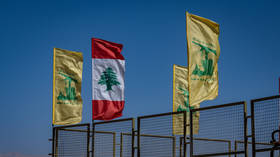 The US has warned third parties from attempting to interfere in the escalated conflict between Palestinian militant group Hamas and Israel, US Secretary of State Antony Blinken has revealed.
The warning has in particular been extended to the Lebanon-based militant group Hezbollah, Blinken told CNN's State of the Union on Sunday. Its main goal is to ensure that Israel doesn't face problems on any other fronts, the top diplomat explained.
"Well, one of the reasons President Biden was very clear from the very first moments that no one elsewhere should try to take advantage of this situation is precisely to do everything we can to ensure that there's not another front in this conflict, including Hezbollah in Lebanon," Blinken stated.
The Secretary of State acknowledged the shelling of the Israeli territory, observed earlier in the day in the north of the country and attributed to Hezbollah's activities. The attacks seemingly stopped after Israeli retaliation, Blinken noted.
"We saw some limited firing of missiles by– coming from Lebanon toward Israel. That seems for now to have stopped. The Israelis responded immediately. And as of now, that's quiet but it's something we're watching very carefully," Blinken said.
The weekend's major escalation between Israel and Gaza-based Hamas began early on Saturday, when the militant group launched a surprise attack on southern Israel. Operatives broke through multiple points along the border, overrunning military installations and attacking Israeli settlements. During the attack, multiple Israeli soldiers and civilians alike were killed or kidnapped, with over 600 already confirmed dead, according to figures by ZAKA, a volunteer group that handles human remains after terrorist attacks in Israel.
Israel retaliated with massive air strikes on Gaza, as well as re-deploying additional troops into the country's south while calling up reservists to further bolster ranks. The country officially entered a state of war on Sunday, when the government invoked Article 40 of its Basic Law in apparent preparation for a land operation in Gaza. Earlier, Hezbollah warned it would enter the hostilities in full force should Israel launch such an operation against the Palestinian exclave.
You can share this story on social media: