Hillary Clinton calls for 'deprogramming' Donald Trump's supporters
The former US presidential candidate has argued that 'MAGA' devoteesl are "cult members"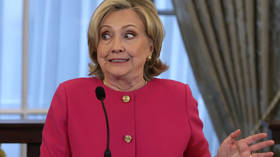 Former US presidential candidate Hillary Clinton has suggested that supporters of the man who defeated her in the 2016 election, Donald Trump, need "formal deprogramming" so Washington politicians can be set free from their intimidating "extremism."
"So many of those extremists – those MAGA extremists – take their marching orders from Donald Trump, who has no credibility left by any measure," Clinton said in an interview aired by CNN on Thursday. "He's only in it for himself . . ., and when do they break with him? At some point, you know, maybe there needs to be a formal deprogramming of the cult members, but something needs to happen."
Clinton lamented that "sane" Republicans are too intimidated by Trump's supporters to work with Democrats on solutions to America's problems. "They oftentimes say and do things which they know better than to say or do," she said of congressional Republicans. "And it will require us defeating those most extreme measures and the people who promote them in order to try to get to some common ground, where people can again work together."
Clinton undermined her 2016 campaign when she disparaged much of the US electorate by telling political donors that half of Trump supporters belong in a "basket of deplorables" – for those who are "racist, sexist, homophobic, xenophobic, Islamophobic." She apologized after her comments were publicly exposed the next day, saying she had been "grossly generalistic." The previous year, she suggested that America needs to have "camps for adults," a comment that critics used to suggest that she had totalitarian instincts.
The CNN interview featured echoes of those past gaffes, with Clinton suggesting that supporters of Trump – the leading 2024 Republican presidential candidate – are bigotry-driven cultists. "He and his very negative, nasty form of politics resonates with them," she said. "Maybe they don't like migrants. Maybe they don't like gay people or black people or the woman who got the promotion at work they didn't get."
Clinton added that Trump's 'Make America Great Again' slogan invited nostalgic voters to "return to a place where people could be in charge of their lives, feel empowered, say what they want, insult whoever came in their way." Ironically, Bill Clinton used the same slogan while campaigning for president in 1992, then criticized the phrase as racist when Trump used it in 2016.
After her husband's two terms as president, Hillary Clinton served as a senator from 2001 to 2009 and was secretary of state under then-President Barack Obama. She said Washington politicians had partisan clashes in the past, "but there wasn't this little tail of extremism wagging the dog of the Republican Party, as it is today."
Trump's grip on Republican voters will only be broken when President Joe Biden, the Democrat incumbent, defeats him in 2024, Clinton said. "It is like a cult, and somebody has to break that momentum," she said, adding, "Hopefully, that will be the end, and the fever will break, and then Republicans can try to get back to fighting about issues among themselves and electing people who are at least responsible and accountable."
You can share this story on social media: