Dengue fever coming to US and Europe – WHO
Mosquitoes carrying the tropical disease will migrate north as global temperatures rise, the organization's chief scientist says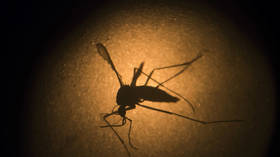 Dengue fever will become endemic in parts of the US, Europe, and Africa over the next decade due to climate change and urbanization, World Health Organization Chief Scientist Jeremy Farrar told Reuters on Friday.
Farrar claimed that the disease would "take off" in these regions over the coming decade as the mosquitoes that spread it migrate to previously inhospitable areas of the southern US, Europe, and sub-Saharan Africa.
"We need to talk much more proactively about dengue," he told Reuters. "We need to really prepare countries for how they will deal with the additional pressure that will come… in the future in many, many big cities."
Dengue fever has long been endemic to much of Southeast Asia and Latin America. It typically causes 20,000 deaths annually, and Reuters noted that cases have risen eightfold since 2000, as climate change expands the habitat of dengue-carrying mosquitoes and growing cities provide the insects with ample opportunities to feed.
Bangladesh is currently experiencing its worst-ever outbreak of dengue, with more than 208,000 cases and 1,000 deaths recorded since January, according to the Bengali Directorate General of Health Service.
Europe saw more locally acquired dengue cases last year than the entire decade beforehand, while isolated cases were recorded in Florida and Texas.
Dengue is spread by Aedes aegypti mosquitoes, a different breed from the Anopheles mosquitoes that carry malaria. Aedes aegypti mosquitoes bite during the day and night and can be found indoors and outdoors.
Those who contract dengue experience fever, muscle spasms, nausea, and – in extreme cases – joint pain so severe that the disease is nicknamed 'bone-break fever.' Most patients recover in less than two weeks, and fewer than 1% of cases are fatal. Two vaccines are available: The more widely approved Dengvaxia, which requires previous exposure to the disease, and Qdenga, approved last year in the UK, EU, and a handful of South American and Asian countries.
The WHO worries that a surge in dengue cases could overwhelm hospitals in poorer countries. "The clinical care is really intensive. It requires a high ratio of nurses to patients," Farrar said, "I really worry when this becomes a big issue in sub-Saharan Africa."
Global temperatures have trended upwards steadily since the 1970s, with the Earth's surface currently 0.86 ° Celsius warmer than the 20th Century average, according to the US National Oceanic and Atmospheric Administration. The ten warmest years on historical record have all occurred since 2010.
You can share this story on social media: