Starship flight to Mars could happen soon – Elon Musk
The billionaire claimed that an uncrewed test landing could be conducted within the next four years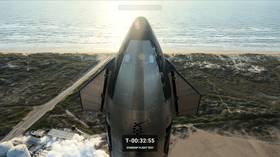 SpaceX's Starship project could soon see an uncrewed flight to Mars, billionaire Elon Musk announced on Thursday. He was addressing the International Astronautical Federation (IAF) Congress in Baku, Azerbaijan via video videoconference.
"I think it's sort of feasible within the next four years to do an uncrewed test landing there," Musk told Clay Mowry, the president of the IAF.
He noted, however, that that goal was only "sort of feasible." But once it is achieved, there will be more to come, Musk said, stating that the Starship system's end purpose is to "land anywhere on a solid surface anywhere in the solar system."
The SpaceX founder and CEO stated that the company's Starship spacecraft – a large reusable rocket system – is preparing for its second test flight and awaiting a launch license from the US Federal Aviation Administration, which he said could be granted as soon as this month.
The first Starship was destroyed during its maiden test flight in April when it failed to separate from its booster rocket and exploded just minutes after making it off the launchpad. SpaceX described the event as a "rapid unscheduled disassembly" but said the test had provided valuable insight.
Meanwhile, Russia's space agency Roscosmos announced last month that its S.A. Lavochkin Scientific and Production Association (NPO) was preparing to launch an interplanetary station to one of Mars' satellites sometime after 2030.
The station, named 'Boomerang,' is scheduled to touch down on Phobos to gather soil samples for subsequent delivery to Earth, as outlined in a statement from the NPO. This mission constitutes the initial phase of the 'Expedition-M' project, which aims to explore Mars and its moons, Phobos and Deimos, by observing them remotely and landing craft on them.
In 2016, Roscosmos noted that the Boomerang mission should have been carried out in partnership with the European Space Agency (ESA). However, in light of the Ukraine conflict, the ESA announced last year that it would sever all ties with its Russian counterpart.
You can share this story on social media: