A man is a man, a woman is a woman – British PM
Rishi Sunak joined a choir of Tory leaders saying that the fight against 'wokeism' will be a major campaign point next year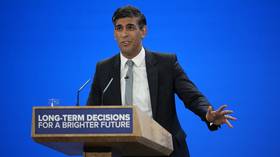 People cannot just choose to be any sex they want, British Prime Minister Rishi Sunak proclaimed during this week's Conservative Party Conference. He added to a string of skeptical remarks by senior Tory officials about transgenderism throughout the four-day event.
"We shouldn't get bullied into believing that people can be any sex they want to be. They can't. A man is a man, and a woman is a woman. And that's just common sense," he said in his closing speech on Wednesday, as the audience erupted in applause.
The Tories, who have been in power in Britain for 13 years, are facing a tough battle at the ballot box next year. Contrasting their position towards transgender rights to that of the Labour Party was picked as a strategy for the election campaign, the Financial Times suggested on Tuesday, citing insider sources and the speeches during the conference in Manchester.
Home Secretary Suella Braverman has claimed that the opposition was seeking to make Britain "woke," warning that "highly controversial ideas" were being pushed on the country, including "gender ideology, white privilege [and], anti-British history."
"The British people will get to decide if they want to curb woke with Rishi Sunak or let it run riot with Keir take-the-knee Starmer," she said, referring to the Labour leader.
Tory London Assembly member Andrew Boff was booted from the conference for heckling Braverman, after her remarks.
Health Secretary Steve Barclay highlighted plans to "recognize the importance of different biological needs and protect the rights of women" in the National Health Service constitution. The review may result in women-only wards becoming off-limits to transgender women.
"As Conservatives, we know what a woman is," the secretary said in an apparent swipe at Starmer, who has suggested that some women have male genitalia.
Michelle Donelan, the science secretary, lashed out at the "slow creep of wokeism" during the party gathering. Kemi Badenoch, the business secretary, and Alister Jack, the Scottish secretary, claimed credit for the Tories having blocked a gender self-recognition bill in Scotland in January.
However, a Tory minister, who discussed the party election strategy with FT, urged caution about the approach.
"We are on the right side of public opinion on this but there's a danger of overkill," the minister said.
Sunak's previous statements about the nature of womanhood had been less categorical. He repeatedly avoided defining what a woman was in an interview with Julia Hartley-Brewer in 2022, and when Piers Morgan inquired about the matter earlier this year he sidestepped the question and instead offered a message of support for transgender individuals.
You can share this story on social media: