British Lord proposes raising pension age to 75
Former Brexit negotiator Lord Frost insists that people are healthy enough nowadays to work longer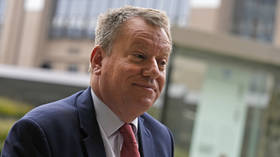 Tory Party grandee and former Brexit negotiator David (Lord) Frost has suggested that the state pension age in the UK be raised to 75 in a bid to reduce public spending. The pension age has already risen twice in the last five years.
"I do think that the honest truth is that the pension age is going to have to go up quite a long way to solve this problem [of reducing public expenditure]," Frost said during a discussion at the Conservative Party's annual conference in Manchester on Monday. "That seems to me the best way of getting out of it in the medium term."
Britain has had a Conservative government since 2010, and despite some initial cutbacks by the normally spendthrift party, the government's outlay has ballooned in recent years. Its annual spending on services – which includes healthcare, welfare benefits, and pensions – soared to £784 billion ($953 billion) in 2022-23, from £713.1 billion ($866 billion) the previous year, according to government statistics.
Meanwhile, the UK's national debt has risen from 75% of the country's GDP in 2010 to 100.5% earlier this year.
"The big blocks of spending are health, pension, and benefits," Lord Frost stated on Monday. "If you don't tackle those you're not really tackling anything."
"People are much healthier than they used to be and I think [the pension age] does need to go up," he said. Asked whether it should be raised to 70, he replied "75, it's quite a lot higher."
Between 1948 and 2010, Britons could expect to draw a state pension at 60 for women and 65 for men. This was equalized to 65 for both sexes in 2018, and increased to 66 in 2020. A further increase to 67 is planned by 2028, and to 68 by 2046, although these dates are currently being reviewed and could be brought forward.
At present, there are 28 people aged over 65 for every 100 people of working age in the UK. However, this is predicted to hit 36 per 100 by 2050.
You can share this story on social media: